Laura Nayiga
Course

Subject area
I enjoyed the fact that my course allowed me to pick modules from economics as well as business, allowing me to continue to increase my knowledge and passion for economics but also allowing me to gain the skills I would need for the working world.
I didn't do a placement, but I did a summer internship in the finance sector at Royal Dutch Shell Plc in Canary Wharf, London. This experience taught me to organise my time better as I had an individual project to complete to pass my assessment but also had various tasks given to me to complete by my manager and attend team meetings.
I want to go into finance in the future, but I am not sure as to what part. Studying economics and management has given me a basic well-rounded view of an introduction into finance through compulsory modules such as introduction into accounting (first year) and accounting for managers (second year).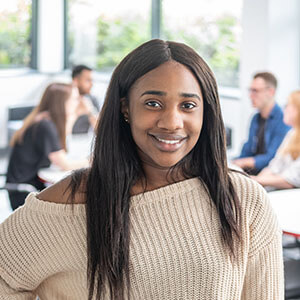 Optional modules that have helped are corporate finance, which has given me an insight into how to value companies etc., which is big part of finance.
I have developed my employability extremely through the various assessments given such as the use of presentations, group work and individual assessments. This has allowed me to perform well and use these skills when completing a summer internship, helping me to secure a graduate role. Loughborough also give the opportunity to have practice interviews such as phone interviews and assessment centres with genuine recruiters from established companies, helping to prepare you for real life.
Loughborough has inspired me. I have met a lot of like-minded individuals who have excelled in their studies resulting in them securing their dream jobs. This has inspired me to do better as anything is possible.
Laura graduated from Loughborough University in 2019.