Kieran Dhandwar
Course

Subject area
I was certain that I wanted to study Civil Engineering for a while because I felt that it provided the greatest range of career opportunities within engineering. After attending an Engineering Experience weekend at Loughborough while I was studying for my A-Levels, I fell in love with the campus. It felt like a small student town and the School of Architecture, Building and Civil Engineering seemed like a great environment to learn in.
There are various types of lecture rooms and study spaces in the School of Architecture, Building and Civil Engineering, as well as computer rooms with specialist software and laboratory facilities with industry-standard equipment. All these facilities help you learn in a variety of different ways. Furthermore, the lecturers are always willing to spend time outside of scheduled lecture hours to give advice or further explanation if needed.
Since graduating from Loughborough University and beginning my graduate job at AECOM, my greatest achievement has been winning the Institution of Civil Engineers (ICE) East Midlands Emerging Engineers award for my paper and presentation about my final year project on climate change and pavement materials. I aim to undertake further research to help tackle climate change within the engineering sector.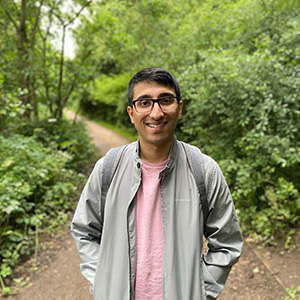 I am now a Graduate Engineer at AECOM, a multinational premier infrastructure consulting firm. I work with the pavement design and asset management team, originally based in Nottingham. We have now been offered greater flexibility to work from home full-time while providing all necessary equipment for a home office, which is a great forward-looking approach in the engineering sector.
Within my team, I work on standard evaluations, including everything from planning site work and analysing site data to producing reports for our clients. I also work on projects for Highways England, including the M54-M6 Link Road project and the A303 Stonehenge project. I also handle several long-term contracts with clients. In addition, I am now the A303 Efficiency Lead where I collaborate with a range of contractors and sub-contractors of all disciplines to facilitate £43 million pounds of savings across four years through reduced costs, alternative designs, and improved processes.
I initially worked with AECOM after I finished my A-Levels by completing a Year in Industry (YINI), supported by the Engineering Development Trust (EDT). During my studies at Loughborough, I continued with summer placements at AECOM where I took on different projects to improve several skills while I was studying. Right now, I have begun a two-year graduate scheme and I'm on my route to Chartership (CEng), which I aim to complete within five years.
Studying at Loughborough gave me a great educational base for being in the workplace, providing me with the confidence to analyse data effectively through a variety of processes and manage projects from concept to completion.
The various types of coursework and people I met on the Civil Engineering course helped me develop my skills in teamwork, meeting tight deadlines and producing work while learning about a new subject. The course really teaches you how to work to your maximum capability, which is incredibly important in the workplace.
I had lots of exciting experiences during my time at Loughborough, but the field trip in Year 2 (Part B) was one of my favourites. Taking everything that we had learnt in lectures and applying it to a real-world project was a great hands-on experience that I will never forget.