Kate Gillingwater
Course

Subject area
I have really enjoyed the variety of modules that I have been able to undertake on my course.
The ability to create a niche with your optional modules or to stay broad is something that I believe is so valuable with this particular course. This, alongside lecturers bringing in relevant and recent theory and applications, makes lecture content interesting and varied.
In particular, I have enjoyed the marketing and strategy related modules which have made me aware of a variety of real-life models and techniques that are used by organisations to guide competitive strategy.
For my placement year, I worked for Johnson & Johnson in the marketing department of their consumer division, specifically supporting the Johnson's Baby brand.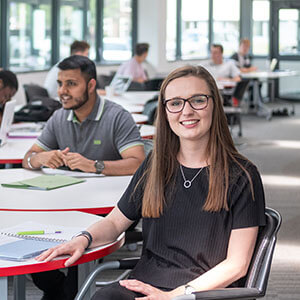 The experience was invaluable and not only provided me with an insight into brand management specifically but also provided me with a holistic view of the organisation including how other divisions such as Supply Chain, Finance and Sales operated both in the local and global market. In addition, with real responsibility that I got within my team, I was able to further develop key employability skills such as project management and presentation skills.
Starting in October, I have a graduate business consultancy role with IBM on their Consulting by Degrees programme in London. Although the 'consulting world' is something that I have not previously experienced, I believe that my course has equipped me with a broad knowledge base which I will be able to use in my role alongside the key skills gained in my placement year.
I think Loughborough provides students with vast opportunities to develop employability with the chance to be involved with Sports Teams, Committees or Volunteering to name a few. During my second year I was a Social Rep for The School of Business and Economics where with the responsibility of creating a sociable environment for both domestic and international students, I developed organisational and budgeting skills alongside experience working as part of a committee team.
In addition, the support that the University has to offer in regard to CV writing, Job Applications and Interview Skills is widely available and to a very high standard. The assistance in particular from The School of Business and Economics own dedicated placement team really helped with my placement applications and contributed to my successful graduate job search.
The atmosphere of the campus is really motivating, with loads to get involved in. This has helped me in realising the importance of a work-life balance. In addition, the support available from all staff and in particular, the approachableness of lecturers, emphasises the desire they have for everyone to succeed and be confident in their own ability.
Kate graduated from Loughborough University in 2019.