Jordan Elliott-King
Course

Subject area
There are so many highlights of my time at Loughborough, it is hard to name just one. My academic achievements were incredible, being able to achieve a distinction in my masters, publish my research from that year and successfully secure a PhD with one of the most inspirational people I had ever met was probably the most notable.
I also had the opportunity to work closely with one of the best researchers in my field on several different projects. I felt overwhelmingly supported by the Loughborough Psychology Lecturers and the on-campus nursery throughout my academic journey. I also enjoyed winning two BUCS championships with Loughborough Basketball alongside this.
During my master's degree I wanted to research the effects of exercise on educational capacity, as I have always had a great interest in the benefits of exercise.
I had the opportunity to take part in the Super Movers research project with Professor Eef Hogervorst, run alongside the BBC and Premier League. The project investigated the impact of physical activity on behaviour and classroom achievement. My academic work had previously focused on cognitive psychology, therefore this research peaked two key interests for me and I was very excited to be able to get involved.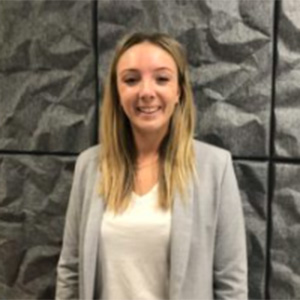 My role in the research project involved supporting with administering cognitive assessment within primary schools, inputting cognitive data, analysing that data, and then sharing the findings with the pupils at that school. Through the research project I was able to demonstrate the difference between being active all day and being sedentary all day on the cognitive function of young children.
The hope is now that the research informs the provision of Physical Education in schools across the country. By making exercise a habit among school children, we have the opportunity to benefit them now and throughout their lives.
The key benefit of this project to my future career was having the opportunity to work with media that I had not experienced at this point. My work since has involved several different methods of dissemination and having this experience to draw upon was incredibly helpful.
Upon completion of my PhD, I started as a lecturer in Cognitive Psychology at the University of Northampton. I have been working in this post for two years now and am very much enjoying the role and continuing to develop in academia.
The advice I would give to someone considering studying Psychology at Loughborough University is to make the most of every experience Loughborough has to offer. It is an incredible place with a lot of incredible people, do not be afraid to talk to as many of them as you can and learn about all the great things going on there.
My initial choice to study at Loughborough was due to being recruited to play basketball for the Loughborough Basketball and Leicester Riders. I was also aware of the University's stellar reputation and liked the proximity to my hometown.
I then chose to stay on for further study as I loved the community and support I received. The BSc Psychology course had inspired and challenged me, and I wanted to learn more from the great lecturers at Loughborough.