I set up theathleteplace.com after mental health battles of my own, which ultimately led me to quit sport. I realised that there wasn't anything out there for athletes in my situation, whilst also noticing an increasing number either going through tough times or quitting altogether.
Early on in my start-up journey, I realised there was far more to athlete wellbeing and support than just mental health. It occurred to me that parents are almost always their athlete's no.1 fan and supporter. But if they don't receive the correct guidance themselves, then how can they support their athlete to the best of their ability?
As with athletes, parents sharing their own experiences and offering advice to others makes their involvement easier, a lot more fun, and less stressful. Considering a parent's involvement often lasts several years, it stands to reason that this time should be enjoyable.
The Loughborough University Enterprise Network is the perfect starting point for students with an idea or passion. In my opinion, there is no better time to start a business than at university. In most cases, you have the time, contacts and drive to give it a shot. You can pursue your passion and consequently make money from almost anything, so why not take that chance?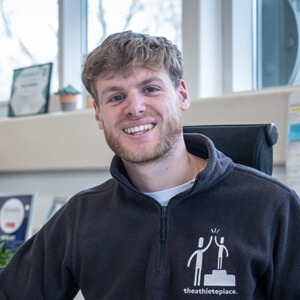 The support from Loughborough University has been genuinely astonishing, from recognising my initial idea to helping me develop it into an exciting new business.
Now based in The Studio - Loughborough University's business incubator - we are making real progress alongside the finest graduate businesses Loughborough has to offer; being around like-minded entrepreneurs who are not only talented but supportive is game-changing.
The support from the team has truly got us to where we are today. The sky is the limit for us and the sport of athletics.
theathleteplace has enjoyed some pretty awesome moments already, from working with national governing bodies (NGBs) to establishing a network of supportive athletes. The thought of regularly working with Olympians to make the sport a better place and of agreeing partnerships with NGBs is more than we could have hoped for.
Our favourite moment so far has undoubtedly been creating the U20 Buddy Scheme, in which Under 20 athletes making their international debuts are paired up with a member of the Team GB senior team. Providing them with the opportunity to chat, learn from and make friends with their role models - I wanted to create this as it would have massively helped me when I made my Great Britain debut in 2016 aged 17.
In terms of our long-term goals, we want theathleteplace to be leaders in parental support and transform athletics as a sport. We have now received grant funding to develop our parental support platform and believe this has the power to change the nature of the entire sport in the coming years. Every professional athlete's first sponsor was their parents. The support and influence they have on their children are unrivalled. It's about time they get some support of their own.