Jasmin Kuonen
Course

Subject area
After finishing my undergraduate at Loughborough and my MSc at Nottingham University, I decided I wanted to get some experience in the industry before considering a potential PHD.
As Lonza – a pharmaceutical company that is located in the area of Switzerland I grew up in – was expanding into biological manufacturing, I decided to apply there and secured a position in the Process Development Team.
My degree at Loughborough University has helped me in many ways. The University and my lecturers have inspired me to love science. The course also allowed me to acquire extensive practical laboratory experience, to think critically, to write high quality scientific reports and to expand my knowledge in statistical analysis.
The laboratory classes, carried out alongside lectures, were of great interest as they allowed me to apply the theory we learned in a practical way.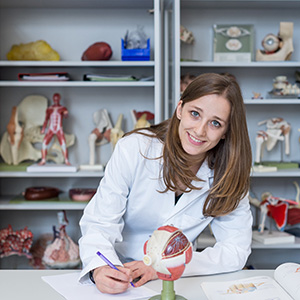 I also had the chance to do a lab-based summer research project in the genetics department, after securing a student grant from the Society for the Study of Human Biology with the help of my lecturers.
This, together with my final year project, allowed me to acquire a great set of skills and combine everything I had learned, from planning and setting up an experiment, to analysing large amounts of data and writing a report.
I believe opportunities like this, have paved my way towards my MSc in Cancer Immunology and Biotechnology, where I graduated top of the class and ultimately lead me to getting a job offer at Lonza, the biopharmaceutical company I currently work for.
There are many highlights of my time at Loughborough, from making friends for life, learning to be independent by living abroad, running a marathon whilst raising money for charity, and having access to state-of-the-art sports facilities.
I was also able to work in an amazing student job at the Student's Union, as a trips chaperone assistant for two years. I truly believe Loughborough doesn't just provide you with top end education, but it is also a place with a huge range of extracurricular activities.