James Banathy
Course

Subject area
The Sport Management BSc degree is wide ranging, from teaching and coaching to sport marketing and economics. This provides you with a really good foundation that sets you up for a career in whichever area of the sporting industry you look to pursue.
I did my placement year at ESPN as the Marketing Intern. I was involved with some exciting marketing campaigns that went out across multiple platforms, including TV, radio and social media. Gaining experience at such a world-renowned organisation was a fascinating insight into the world of sport media.
The level of teaching at Loughborough is excellent, the tutors are more than willing to support students academically.
As a sport student there isn't a better place to study than Loughborough University. The course looks to apply theory to real sporting situations and looks to use the facilities and events on campus to do so.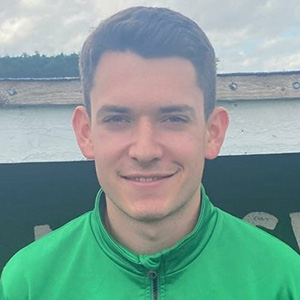 If you are interested in a career in sport then the Sport Management MSc is perfect for you. There are exceptional opportunities as a sport student at Loughborough University, grab them with both hands.
I am currently completing my UEFA B Coaching License and have recently started a coaching role within the academy department of a leading Premier League club.
Alongside this I am also working at a football college as a sports tutor delivering a Level 3 sporting qualification to higher education students.