Jake Owen
Course

Subject area
I've always been interested in helping people and the course stood out to me as a way to improve quality of life by developing new solutions to existing problems. With it being a new course, I thought it would be a good opportunity to do something that is current and could help to shape future medicine and treatments.
The facilities, the quality of the sport and the level of teaching that you get at Loughborough really appealed to me. The closeness of students at the university is something that really appealed to me too; there are plenty of opportunities to try new things and meet people from different walks of life. It really felt like home to me from the moment I arrived.
I like the variety on the course: within the first year we have studied modules from across the engineering schools. This gives you a chance to find out what you really enjoy and shows you the options for future careers that you have doing this course. The teaching and facilities have been top notch, the lecture theatres and labs are all quite new and you get a chance to use a lot of the apparatus within the labs. The teaching is flexible, and changes based on feedback from students to ensure it is the best it can be for the group.
To describe my time at Loughborough in three words would be: challenging, developmental and exciting!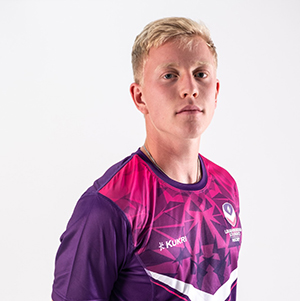 As a performance athlete I get regular support from a personal mentor who helps ensure I am able to achieve the highest levels in my studies and my sport. Aside from this I also get help from my course personal tutor, this allows me to bring up more course specific issues and acts as a direct link to the teaching staff.
This course is a great opportunity to study some new and exciting ideas and provides a great environment for expressing your ideas. The breadth of the course really allows you to explore different areas and may lead to you finding a new passion that leads you to a career you hadn't considered before. The support from the course staff will ensure you are able to do your absolute best in all aspects of your life. I am planning to go on placement after completing my second year of studies and the do a masters after finishing the undergraduate portion of the course.
I would like to work at a top biomaterials company and eventually set up my own company. The university supports this through the placement guidance we get and the choice of modules so I can focus on the biomaterials side of the course.
In terms of sport, my ambitions are to play senior international hockey. Through 1 to 1 sessions, video sessions and extensive support from the hockey coaches to S&C coaches and nutritionists alongside the regular training we have as a squad, the university is giving me the best chances of succeeding.
In my spare time I am usually training, I play for in the hockey performance squad, so training is pretty full on. I have also been able to try a lot of sports such as softball, volleyball and netball through various club vs club charity days or one day events with halls. My greatest achievement has been playing for GB U21 in Madrid at the 8 Nations tournament in July 2019.