Jacob Beesley
Course

Subject area
I chose my degree at Loughborough primarily due the option of a placement year, something I was extremely interested in. Loughborough encourages placements and I saw this as a great programme that would allow me to utilise my experiences on placement in my final year.
What attracted me to the University was Loughborough's brilliant campus and facilities that I saw during my first visit. Something else that attracted me was the emphasis on sport, as a keen sportsman Loughborough is the first choice for anyone who intends to keep their sport up at a competitive level in quality facilities.
I enjoy the wide range of modules, especially the optional modules we can choose from every semester. The teaching quality is very good; with lecturers from all different backgrounds it's always an engaging and different lecture from week to week.
I thoroughly enjoyed one of the optional modules I did in my first year called 'Contemporary World Arena'. I found it particularly compelling from a personal view as I have grown up abroad and found the theories of flows relatable and applicable to the globalisation experienced and witnessed growing up.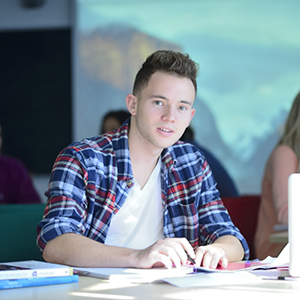 One of the most exciting things we do on my course is watching foreign films in the module 'Critical Viewings'. Prior to starting my degree I never really watched much foreign film. This module gave me the opportunity to engage in critical discussions about the film and to discuss and analyse its themes afterwards.
The University is always putting on placement talks and fairs. They also communicate this through Google Calendar, which makes all of the information such events easy to access and clear to understand.
To anyone considering coming to Loughborough University, I would advise them to do it! It's an exciting and broad course that covers areas of the wider media industry in an alternative and insightful manner. New theories are taught and those taught during A Level are utilised in modules I didn't expect demonstrating the applicability to the wider media industry, linking theory to practice.
The atmosphere and mentality of Loughborough University continues to inspire me, it's a campus that hosts sports stars and athletes year round. Seeing successful people inspires me to strive for success in my studies.