Jack Millington
Course

Subject area
Something about the feel of the university on the Open Day made me think "This is where I want to be". The facilities seemed exciting and everyone you met was friendly, you really got the feeling of the Loughborough Family before even being a part of it.
Having the backup of world-class facilities really helped to cement the theory side. Going to the engine labs to test something you've just discussed gave you something to latch onto. What I liked with Loughborough is that we'd always almost have a practical aspect to each module and any coursework we completed we'd collect the data for ourselves.
I was impressed with how much of an open door policy all the lecturers have, any issues or queries you might have, whether that's a topic you've not quite understood or an issue with coursework, as long as they're in their office they're happy to help out.
It was great to have the Maths Learning Support Centre as well to get specific help if you find you need it, I didn't do a further Maths A level so it was helpful to have that support and the resources for topics I'd not covered before.
Loughborough has great links and the placements programme included helps you get your foot in the door even sooner. It's inspiring seeing where past graduates have ended up and we often are given direct contact to them to aid our search. Alongside this, the Careers Network are great at helping you with mock assessment centres and free CV clinics.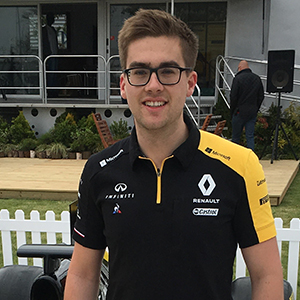 MIRA vehicle testing week was definitely a highlight for me. Getting to spend the week down at the test tracks was a really exciting opportunity and one that no other university can offer. Getting to grips with the test equipment that's used out in industry as well as having some fun in the cars is a real highlight, and a nice sociable way to end the semester before Christmas.
I also got involved a lot with the Halls of Residence I lived in, Loughborough has a real community feel with halls taking a far greater place than at other universities. I joined the committee in my first year as Media Rep and got to plan and run the Freshers events in my second year. It was a great way to meet new people and get out of my comfort zone a bit and try something new out.
I spent a year between my second and third year out at Renault Trucks UK, working with the product team there and supporting the dealerships around the UK. It was a great experience to apply what you've learnt and see how it is in the real world and even got to get out and travel a fair bit along the way!
The year helps in that you could see it as a no-commitment job offer and a yearlong interview. If you find you hate the job, you at least know you don't want to do that after your degree, or if like me you loved it then it inspires you in your final years to work even harder to achieve it!
Loughborough has such a positive atmosphere that is hard to describe unless you experience it, not only academically with the projects going on around you and opportunity to get involved, but also the campus as a whole. People may be pushing to their sporting best or getting stuck into a society, and everyone really has a sense of pride in the Loughborough name. Just seeing how many people share and celebrate on social media when Loughborough wins an award, even friends that left a few years ago, is testament to the community the university has.
The placement year was a real highlight for me, using the knowledge I learnt at university and proving myself at work was a really great feeling. Being asked to represent the entire UK market in a sales training event over at Head office in Lyon was amazing and something I never would've got to do had I not been on this course.
My advice for prospective students would be to absolutely go for it! I've had so many opportunities I didn't imagine coming into the course and have never looked back since.