Whilst applying to universities through UCAS, my first choice was Loughborough. Fortunately, I managed to get the required A-Levels and went on to study Sports Science with Management.
Before applying, I visited the campus; they had state of the art sporting facilities, a multiple floored library and spacious lecture halls.
My first year proved to be challenging because I did not get into the Marylebone Cricket Club Universities (MCCU) academy. I made progress from the club during the next few years, and managed to play for the academy occasionally. My real lifeline occurred during my third and final year when I was walking through campus with a friend and course mate - Alexandra Brown. We were discussing how students manage to balance elite sport with academics, and because I was travelling frequently with the Kenyan national team, she said that I should split my final year; this would mean spending a fourth year at Loughborough. After analysing the costs and benefits, I decided to take her advice and return.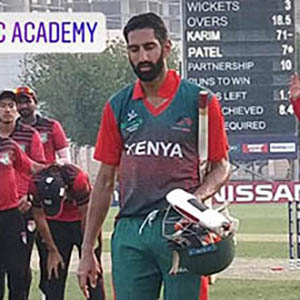 The additional year at Loughborough provided me with a better balance between sport and academics because I could assign enough time and effort into each aspect. My cricket journey however, was an emotional one. I started in the recreational squad which was rock bottom. A few years later, I went on to get a Cricket Scholarship at the same university and was named the best player at the Red Bull T20 World Cup held in Dehradun, India. We qualified for this event by beating Oxford in the final of the regional tournament and as a result, went on to represent England. Aside from losing to South Africa in the final, I could not have scripted a better ending. It was simply the best tour many of us had been on.
I would like to thank my parents and friends who have contributed to a successful four-year experience. All this would not have been possible without Loughborough University's understanding and immense support. They allowed me to pursue a professional cricket career without compromising my academic results. I went on to graduate in July 2015.