George Tarpley
Course

Subject area
The foundations of my current Graduate Scientific Trainee role are primarily focused on learning and development in the specialist fields of haematology and haemostasis, within the in-vitro diagnostic industry.
The role involves secondment to an NHS pathology laboratory to enhance and develop clinical related knowledge and to become a fully qualified biomedical scientist (BMS), accredited by The Health and Care Professions Council.
Once qualified, I will spend time working within the laboratory, reviewing patients full blood count results, and gaining experience in coagulation studies, cellular morphology, haemoglobinopathy screening and blood transfusion, and the role they play in patient management and treatment.
The role also offers an insight into the private sector, focusing on project management both within and outside of the laboratory.
I have also managed a project investigating haematological parameters in virally infected COVID-19 patients, providing valuable feedback to the research and development departments within Sysmex globally.
I would've never ended up within this field if I hadn't considered a placement year. The placement year prompted me to follow a career that fascinates me and provides the opportunity for learning and development within the workplace.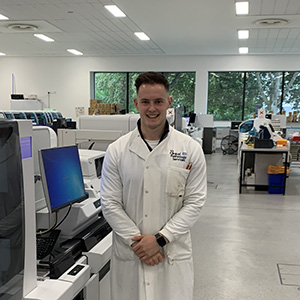 I completed my industrial placement year at Sysmex UK as a haematology product specialist intern. This role introduced me to the world of in-vitro diagnostics, focusing on customer education, training and trouble shooting. From the initial 12-month placement I was offered an extension of 3 months and then offered the Graduate Scientific Trainee post. The company then supported me through my final year of university studies.
The basic introduction to professional working skills have been fundamental to my working career to date. My placement helped me to develop time management skills and professional relationships, as well as an understanding of the importance of meeting deadlines and focusing on the output of quality results. It also provided an introduction to corporate environments, how to work within diverse teams and even how to communicate through different means. All of these skills helped me to make a smooth transition into my job role post-graduation.
The Human Biology degree at Loughborough provided a broad and in-depth understanding of human anatomy, physiology, genetics, biochemistry and the influences on such systems through exercise, nutrition and environmental impacts. The knowledge and understanding of such intricate systems provides the basis for my job.
Through the degree program I developed the ability to critically assess journals, experimental protocols etc. and this really becomes intricate in the roles of research design and project management. During my final year project I developed numerous skills such as time management, protocol modifications and statistical analysis.
Each and every lecturer, tutor and mentor at Loughborough University went above and beyond in my experience. Whether I had questions regarding lecture material, coursework queries or even just general inquiries about a topic, the staff always responded informatively and promptly.
My final year project was fundamental to my development in research design and project management. I was provided with a full scope to design, undertake, analyse and report a project within a novel field of breast cancer oncology and exercise prescription. Even though the clinical information gained from this project is of minor relevance to my job role the understanding of ethics, statistical analysis and research design are fundamental.
I always wanted to study at Loughborough University for the sporting facilities that it holds, which are world-class. Outside of my studies and placement I spent a lot of my time training for Powerlifting and general fitness. The community within Powerbase is one I have never experienced before, and I have made some life-long friends.