Francesca Denton
Subject area
My primary role as a Clinical Trainer is to programme and deliver evidenced-based, individualised and prescriptive exercise to a range of clinical clients, including but not limited to our 4 specialisms (cardiac, oncology, diabetes and menopause).
I carry out specific health assessments and continual monitoring to gain a holistic and detailed overview of our client's well-being, with the aim of improving their quality of life, whether that be through prevention or management of a life-changing condition.
I have always wanted to work in exercise as medicine, however, after completing my placement year at the Leicester Diabetes Research Centre and an internship at the Movements Insights Lab in the National Centre for Sport and Exercise Medicine (NCSEM) on campus, I narrowed my career focus to applying research to help prevent and manage non-communicable disease through exercise.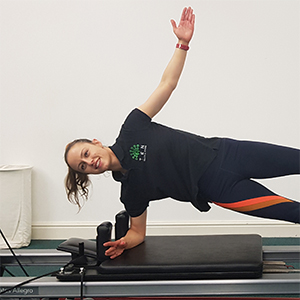 Lecturers within the research field of physical activity and physiology particularly helped guide my career and education choices. They were always willing to support my enthusiasm for exercise as medicine and provided important exposure to the underlying research in this field.
I particularly enjoyed completing my physiology research project and assisting with several research studies, gaining experience in health assessments and investigating the influence of physical activity on our day-to-day physiology.
The hands-on lab-based experience during my degree (particularly in exercise testing and physical activity measurement) has proven invaluable in effectively selecting appropriate assessments or monitoring strategies for each individual client.
Modules in exercise psychology have allowed me to help client's overcome and achieve their goals through various strategies, as well as giving me an in depth understanding of human anatomy and physiology to understand and tackle complex health conditions or injuries during their rehabilitation phase. Loughborough also equipped me with the skills to critically evaluate research and translate this into practice.
During my four years studying at Loughborough University I made countless happy memories! I progressed from absolute beginner to a black belt in the AU Kickboxing club and achieved the Ladies Middle Weight National University Kickboxing Champion title in 2017. I also had the privilege being a Vice Chair and Social Secretary, where I made friends for life and learnt transferable organisation skills.
I was also a member of the Salsa society and enjoyed competing and learning new skills. In my first year, I was an active RAG fundraiser for East African Playgrounds and I travelled to Uganda to build a playground for a school. All of these experiences complemented my degree, truly shaping who I am and teaching me to never stop learning.