Emma Hutchinson
Course

Subject area
I was first attracted to Loughborough's world-class facilities for sport and to the campus as a whole. I also liked the opportunity to incorporate a placement year into the course and there are good transport links to the rest of the country from Loughborough. The reputation of Engineering at Loughborough is amazing too, which was a huge selling point.
I chose Chemical Engineering because I really enjoyed studying Maths, Chemistry, Physics and Product Design at A-Level. These subjects combined provide a good base to study Chemical Engineering.
My favourite module was Process Balances and Stagewise Processes as this was the first real insight I had into their usefulness in industry – for example when calculating stages of extraction and the amount of a solvent that needs adding for high percentage purity at the end of the process. Process Balances also covered aspects of economics, which was very interesting and different to other similar courses in the country.
If we needed extra support, we could get help by dropping into the Maths Learning Support Centre (MLSC) or setting up further meetings with our tutors.
Loughborough University inspired me to grab every opportunity with both hands. The course can be tough at times but the camaraderie between peers makes up for it. Plus, there are so many career options open to a Chemical Engineering graduate, so if you enjoy challenges, science and teamwork, why not study it?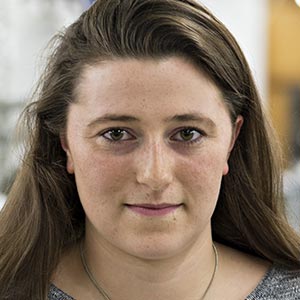 The social atmosphere was amazing, and activities are endless. Through my course, there were interdepartmental sport tournaments and matches. Chemical Engineering has male, female and mixed teams for a multitude of sports and I had the opportunity to play netball. There was no commitment, you didn't have to be good at sport and mostly it was a great opportunity to get to know your peers and people in the years above and below.
Other sports included football, rock-it ball, volleyball and dodgeball. There was also the annual Frank Morton Sports Day Event, whist the second-year committee organise social events each year.
Outside of this, I was part of the AU Water Polo team and the training/social aspects of the club were brilliant. We had a social every Wednesday and went to many other universities to compete. The team spirit was great – joining was the best thing I ever did. I would recommend joining a sports team or society to anyone: it is a good way to get to know other people outside of your course, year group and halls. The swimming pool and gyms were also great to use, and you always saw Olympic athletes around campus, which was exciting.
I enjoyed having a mixture of freedom and the security of studying at a campus university. Everything was so conveniently close, even when living in town! The Students' Union, sport facilities and shops take no time at all to get to. The ease of getting to the gym/training/meetings between or after lectures was a bonus.
I believe that having been a Loughborough student I will be in the best possible position to succeed at my goals, due to the amount of different experiences I've had in addition to my degree – for example being a member of sports teams/societies, volunteering/coaching sport, volunteering in the community and fundraising around the UK. All these extras contributed to me being a well-rounded and desirable employee after graduation, and thanks to the multitude of options available there is something for everyone.
Emma graduated from Loughborough University in 2019.