Emily Belcher
Course

Subject area
The amazing sports facilities were a massive pull to the university but when I visited, the general feel was great too – it felt so welcoming and relaxed.
I was a bit lost on what to study to be honest as there were multiple avenues I wanted to explore (e.g., Sports Journalism) so when I discovered the combination of English and Sport Science it was a no brainer. I loved the versatility of the course – going from annotating a piece of modernist literature to coaching gymnastics in a matter of hours kept me consistently interested. I loved the practical element of my course – being able to get first-hand experience within the Teaching and Coaching field was great.
My joint honours degree lent itself to a wealth of new skills. I think I am more of a kinaesthetic learner, so the practical side of the course massively helped me build my skills as a coach. The lecturers were undoubtedly hugely knowledgeable in their respective fields but their drive to instil and share this knowledge with us students was massively respected.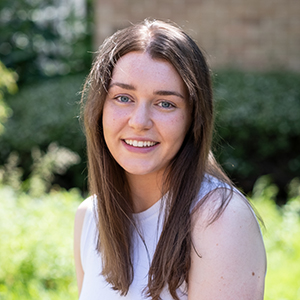 Since graduating in July, I have since moved to London to work in one of the city's leading independent day schools. I definitely think the reputation of Loughborough as a world leading university within the field of sport has helped my job applications stand out, especially as I am interested in working within the realm of health and fitness in the future. I completed a year abroad during my third year at university working as a Wellness Coach in the United Arab Emirates – this undoubtedly made my university experience.
Uncertainty isn't always a bad thing. One of the great things about this course is that it has the potential to open so many doors, so don't worry if you're not 100% sure what you want to do or where you want to end up as this course is a great SATNAV in that journey.
My advice, as I am sure is the advice of many others, is to just get involved. Whatever way this may be, fully immersing yourself into university life is the best way to meet people and really make the most of your time.
Campus has a super chilled and friendly atmosphere; it is very easy to feel at home. You can always find something to do. I was involved a lot in departmental sport which was fun and great way to meet course mates. I was part of the Loughborough Students' Athletics Club and loved being able to train in the incredible facilities. It felt like such a privilege sharing a training ground with some of Team GB's top athletes.
It's a nice feeling saying you're a Loughborough graduate and once got to wear the renowned African violet.