Elizabeth Cheeseman
Course

Subject area
I chose Chemical Engineering because it was a combination of the subjects I enjoyed at A-level (Maths and Sciences) and I thought a Chemical Engineering degree gives graduates a wide range of rewarding career paths to follow.
I visited the University on one of their summer open days and it really appealed to me. I liked the campus and the friendliness of the staff and students. Loughborough is one of the few universities that offer a placement year integrated into their degree. This mean you get support whilst applying to placements and a dedicated Industrial Tutor throughout your year out.
I really enjoyed the application of theory learned in lectures to real-world problems. A lot of our coursework was set as a group challenge and this was a valuable experience because in industry, we are expected to work both independently and in teams. This element of groupwork also meant you got to know your year group really well which was an added bonus.
As a dyslexic student I received a huge amount of support from Student Services. They were exceptionally knowledgeable and approachable. Their support helped me to reach my potential.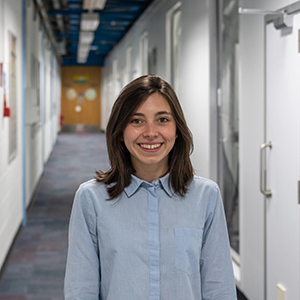 Some of the exciting things on our course included the "Professional Development Project", which gave students the chance to undertake an independent research project at Loughborough, universities around the world or in industry. This was a great opportunity to broaden your horizons and see the world whilst working towards your degree.
I won a UK wide competition run by the EPSRC Centre for Innovative Manufacturing in Regenerative Medicine, which is a centre based at Loughborough University. Through this I was awarded a fully funded internship at the Harvard Stem Cell Institute, Boston, USA. I spent the summer undertaking an independent research project and attending classes taught by some of the world's leading stem cell scientists. This was an amazing opportunity which cemented my intention of pursuing a PhD post-graduation.
Loughborough Students' Union (LSU) is the best in the country. There were a huge range of clubs and societies to join whatever your interests. Loughborough is known for its famous athletes, but the best thing about sport at Loughborough was that you can join in at any level.
I joined the Wado Ryu Karate club as a beginner in my first year and became part of the committee in the following years. As part of this I represented LSU at national competitions and even organised our own tournament – something I would have never thought possible. As well as meeting some of my best friends at the club, being part the committee helped developed essential "soft" skills, like time management and organisation, which will enhance my employability.
Elizabeth graduated from Loughborough University in 2015.