Elisa Carine Strobbe
Subject area
Loughborough University particularly stood out to me because of the wide range of opportunities that the course had to offer. Not only is it one of the leading universities in construction and has incredible campus facilities, but it is also sponsored by a consortium of contractors who provide sponsorships, placements, and graduate jobs. Most careers begin after you graduate but Loughborough offered the opportunity to start it alongside my studies.
The teaching quality at Loughborough is incredible. The facilities also provide us with a range of teaching mechanisms from large lecture halls to interactive sessions and tutorials in computer labs. Lecturers also tend to be readily available to answer any questions, which is extremely helpful.
The School has been extremely supportive, providing us with coursework clinics, module notice boards and regular emails to students. There is also a lot of support in relation to mitigating circumstances and coursework deadlines. The University also has student support and wellbeing services, which do their best to provide guidance to solve your concerns.
Everyone on campus is friendly and open to talk or help you with anything you need. We also share modules with students on other courses, helping us socialise with others. There are also a lot of societies and sports teams you can join, and events happening on campus every day. You will always have something to do!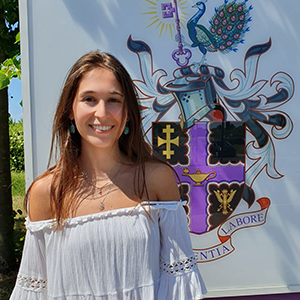 The course takes you on multiple field trips to visit real construction projects, which allow you to get more construction and leadership experience during your time at the University.
We went to the Peak District to plan out and complete activities for over 40 individuals within less than 48 hours, which created a high-pressure situation that was really exciting. Everyone ended up really enjoying all the activities while having learnt significantly about teamwork and leadership. The course has a lot of different teaching mechanisms and we touch base on a lot of important areas in the construction management world.
I particularly enjoyed the projects where we were asked to design buildings because these allowed us to explore the programmes that are being used more and more in the industry, such as Computer-Aided Design (CAD), Revit Architecture, and Building Information Modelling (BIM). I think it is important to understand the software that will allow us to visualise and design buildings as we will likely be using it in the future.
There is a need for sustainable construction throughout the world. I aim to bring my knowledge and experiences to countries that need it the most. Disaster risk reduction (DRR) is an important topic and the effects of man-made or natural hazards need to be mitigated. The University supported my dissertation research in the field and gave me a strong foundation to pursue my career anywhere in the world.
I got an opportunity to work in Central London as a sponsor student for my placement. I started at Loughborough without any experience in construction and my placement year really helped me gain a lot of valuable insight into the field. I shadowed the Senior Site Manager and helped solve conflicts between proposed designs and existing construction projects in collaboration with the architects and structural engineers on the project.
My main achievements throughout my time at Loughborough University include my sponsorship with one of the consortium companies who also provided me with a placement in central London. I achieved well academically and partook in AU Basketball in my first and second years and AU Kickboxing in my second and third year. I was also nominated for the Women in Property Student Awards and made it as a finalist in the West Midlands in 2018.
I recommend the course because it challenges students in all areas of construction, and you learn how to tackle subjects that you may not consider your forte. We are not only taught management techniques, but we are also given the foundation knowledge in civil engineering and structural design, 3D modelling design, tendering, planning, surveying and much more. As a construction manager, you are expected to understand and apply these things daily, so I strongly believe this is a good course to follow if you're planning for success.