Dhwani Dhwani
Course

Subject area
I'm an international student from India. Two years ago, I had to make a decision about where I wanted to study. It took me weeks to shortlist five universities out of thousands that were offering me the same course. As an international student, I didn't have a chance to visit open days and my research relied on all the information that was available online. Loughborough University was on the top of my list because my course was ranked number one in the country with an excellent media centre.
After the first few weeks of attending lectures and exploring opportunities on campus, I was convinced that Loughborough University was the right choice. I woudl say my favourite thing about Loughborough is the campus and the people. You don't have to like sports to come to Loughborough - it has something for everyone.
Moving to Loughborough from the other side of the world has helped me grow as an individual, made me independent, and taught me a great deal about communication (pun intended), not just in theory but also in terms of building and maintaining relationships. It has helped me get out of my comfort zone and inspired me to grab opportunities as they come.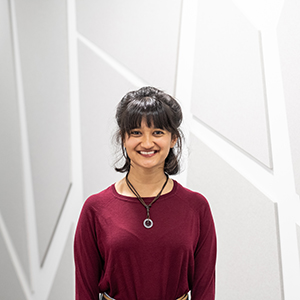 My fascination towards media grew unknowingly and in an organic sense as I have been consuming media ever since I was kid. I grew up in the digital age, being surrounded by content. Over time, I came to realise that media brings change, makes voices heard and has the power to influence people. I was interested in film, advertising, digital media and even global markets, studying Media and Communications meant I didn't have to pick just one sector.
I like how the course is research-centric as well as interactive. It also lets me pick my own topics for research which makes it even more interesting. It offers a variety of optional modules. I love languages and I have been able to pick a language module every semester.
The teaching quality is excellent. The staff is supporting and always happy to give advice to students. From the school, my personal tutor and the placements office have been very kind and supportive throughout and from the University, the library staff are warm and welcoming. The Students' Union host amazing events all year. Particularly, the Welfare and Diversity committee which promotes wellbeing and positivity.
In terms of facilities, the media centre (LSU Media) is particularly my favourite. It has allowed me to unleash my creativity through photography and writing. Since my course is theoretical, working for LSU Media helps me put theory to practice.
In my first year, I really enjoyed Media Landscapes. Industry professionals from different creative sectors were invited to speak about their experiences, providing insights into their sector.Overall, my most favourite module has been Media in Global Context. The module was engaging, critically challenging and discussed the most interesting media and global theories.
When I graduate, I aspire to work as a Creative in an advertising agency. This degree has contributed to my research skills and critical thinking.