David Abiona
Course

Subject area
I chose Loughborough University because of its world-class sporting facilities, warm student atmosphere and impressive academic reputation. A friend of mine showed me some photographs of the campus and I was instantly fascinated and interested to see more.
The teaching quality at Loughborough University is of a high standard. The staff were incredibly supportive and have a depth of knowledge to draw from. I enjoyed the film related modules the most – my favourite being 'Critical Viewings'. I liked not only watching exceptional films and documentaries, but also that we could discuss our perspectives on them and look at how they wove current world events in their narratives. This in-class analysis helped me understand perspectives different to my own, informing my worldview.
There were some exciting opportunities on the Communication and Media Studies course, including travelling overseas to study as part of the degree. I went to Belgium for a semester and found it to be an incredible, life-changing experience. I wouldn't be the same person today without it.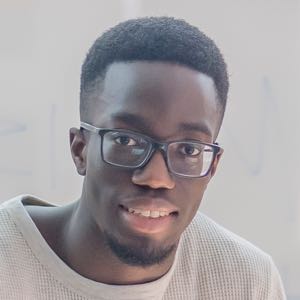 Throughout my studies, I received an incredible amount of support from both the department and university. Whether it was a listening ear on some important choices I needed to make, or wisdom on academic matters, there was someone around to help. The facilities were great too – they created a prime learning environment for group lectures, seminars and individual study.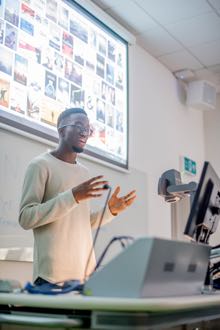 When I was a student, I aspired to a successful career in the music industry as a Hip-Hop artist. This degree contributed towards my goals by expanding my mind academically, as well as giving me access to a host of opportunities outside the classroom that I otherwise may not have been able to experience.
To anyone considering my course I would tell them to expect a lot of theory-focused study – but that's a good thing! It will expand the way you think, strengthen your critical thinking capabilities and allow you to better understand communication and media.
Attending Loughborough University gave me the opportunity to grow as a person. Comparing who I was when I arrived a few years ago, to who I am now, is testament to the quality student experience here. Campus is a community full of amazing, inspiring and fun people and there's a whole range of opportunities to help you progress. I was part of the Christian society on campus, known as Radical Youth, and being part of this family has definitely been one of my biggest highlights. It has helped me to grow as a person and face many of life's challenges with the backing of a strong support system.
A standout moment for me was been performing poetry for the first time at the Speech Bubble open mic event. It was during my first year and I never thought I'd do something like that! I was nervous at first, but it turned out to be a truly special evening. Those in the audience enjoyed it a lot too, and I've been going on stage more and more ever since!
David graduated from Loughborough University in 2018.