Danielle Riley
Course

Subject area
I chose Loughborough for the small cohort of 60 students and the facilities available, including a dedicated studio space. The quality of the course was also really important when choosing where to study. The 50/50 balance between design and theory that this course offers really stood out to me.
The modules in the first and second year cover so many interesting areas, meaning the possibilities for exploration are endless. One of the design studio projects ends with collaborative design and construction of a pavilion. There are exciting opportunities in all modules, including sketching, model making, and 3D software modelling, to name a few.
Loughborough has inspired me to push myself and grow in confidence. Working on the Architecture Society Committee has given me the opportunity to take on further responsibilities and a leading role. When you join, take every opportunity you can get!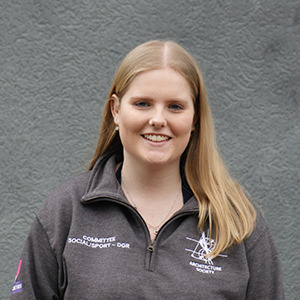 Design Studio and Design Skills are two of my favourite modules on the course as you can explore things that interest you and the brief allows you to explore various areas. I have enjoyed learning about new digital software, something I had never done before starting at Loughborough University.
I got to showcase my project, The Fabrication Library, at the Architecture End of Year Show. My project was a library that aims to stitch together the surrounding communities through specialised facilities, inspired by the historical link to Liverpool's fabric industry.
Having a small cohort means that the lecturers can get to know students more and there is increased availability of support or inspiration. The open-door policy in the studio also allows for constant interaction between staff and students, creating a great working environment. In addition to the main studio space, everything is located within 10 minutes of each other, making the facilities easily accessible.
The School also supports students with securing exciting placements. I plan to complete a year's placement in an architectural firm where I will gain the experience and skills needed in the industry. I would like to pursue a career in design, specifically focusing on the collaboration between architecture and graphic design, which I have been able to explore throughout this degree.