Chloe Leckie
Course

Subject area
I was initially attracted to Loughborough University because of its strong reputation in the sports field, particularly its sports facilities, including the Olympic-sized swimming pool and access to numerous sports societies. I was also very impressed with Loughborough's high rankings in the design and building sector. The more I researched into what Loughborough University was all about, the more the incredible Loughborough family focus became something that other universities could not compete with.
After studying Fine Art and Product Design during my A-levels, I had a particular interest in pursuing a career in the design industry whilst exploring the more scientific and practical areas of the field. A combination of my love for nature and understanding its importance within the built environment contributed to my interest in the Urban Planning course at Loughborough, which incorporates environmental, economic and social aspects of the industry. The more projects I complete and the more I learn, the more I believe that I have chosen the right course for me.
What I love most about the Urban Planning course is the diversity of the modules offered, incorporating both the design principles and practical elements. We completed a multidisciplinary project, which involved working on designing and developing concepts as part of the integrated School of Architecture, Building and Civil Engineering. It was an invaluable experience to work with other students from different courses in the School. The project replicated collaborative working, which gave us a look into how our future roles would be like in the industry.
The support that the University has provided me so far has been excellent. One of the real benefits is the ability to have a personal tutor who I have regular check-ins with and who is there to support me with my academic and personal developments. All lecturers are also very approachable, enthusiastic and supportive, which has made such a difference in adjusting to student life. The teaching quality of the course is brilliant. Each lecturer has different specialities, which creates a diverse and knowledgeable learning experience.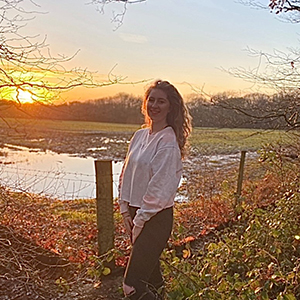 In the future, I would like to partake in projects that involve designing future small- and large-scale developments, such as housing developments and urban spaces. I want to contribute to a beneficial and effective change towards a more positive restoration and development of new cities and urban areas.
With the placement year integrated into the third year of the course, which is specific for Loughborough University, this will provide a valuable first-hand experience into developing my career path.
My favourite thing about being a Loughborough student is being part of a vibrant, fun and caring community that prioritises the wellbeing of their students. Loughborough is such an excellent, close-knit and sport-focused university and I appreciate that I can still sustain my love for sports.
The Urban Planning course at Loughborough provides an excellent balance of practical, theoretical and professional components that sit within the planning sector. If you are looking for a course that combines legal, economic and design components, then this course is right for you.