Caroline Lambert
Course

Subject area
I currently work at Fujifilm Diosynth Biotechnologies within a project team planning experiments to support the development, evaluation and characterisation of processes for the manufacture of novel therapeutic products.
These experiments primarily focus on protein purification, and processes range from laboratory benchtop scale through to large 5000L fermenter manufacturing plant scale. This involves the use of techniques such as primary separations (homogenisation, depth filtration, clarification), protein purification (chromatography, ultrafiltration), and analytical techniques, such as gel electrophoresis and spectrometry.
My personal tutor provided me with support on everything from coursework to careers advice. I was well supported throughout my final year project, with academic staff providing me with the confidence and skills to work alone on a research project of my own for the first time.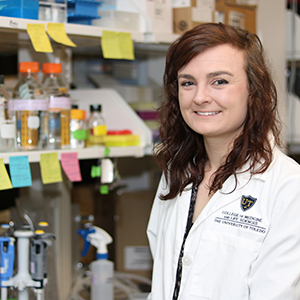 In my Research Scientist role I am frequently performing different chromatography methods. These include: Anion Exchange, Cation Exchange and Size Exclusion. Ultrafiltration/Diafiltration and depth filtration methods are commonly used alongside chromatography to improve the protein purity across a process.
At Fujifilm I work on scientific projects both within a team and alone. I began to pick up the skills needed to work in a team and alone during my time at Loughborough. The skills I developed in research and writing through my coursework and final year project now assist me in troubleshooting and writing up experiments.
Outside of my studies, I trained with the women's cross country group. I am still friends with many of the women in the group and continue to enjoy running with them through training and competition. My coach helped me to a number of England mountain running vests during my time at Loughborough and helped me achieve times on the track which would allow me to be offered a sports scholarship to study for a Master's degree in the USA.