Callum Foster
Subject area
I chose Loughborough due to its worldwide status for excellence across sport-related courses. Following a visit and seeing the wealth of facilities and the professionalism of the sporting teams, I felt that this was where I needed to be to get the best possible degree to propel my future career. And I wasn't disappointed.
The course has given me all the support I need to confidently apply the theory into a working role, and the resources to go and do further research into my interests. You learn directly from staff who are producing world-leading research in the field. A five-minute conversion with them is invaluable in understanding how to develop your knowledge in the areas you are interested in.
I also secured a Nutrition and Strength and Conditioning placement with the 1st team at West Ham United Football Club. I decided to undertake a placement as I wanted the chance to experience working in the area I hope to pursue after graduating, while gaining key practical skills that are required by many industry employers.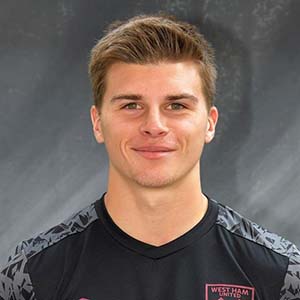 The teaching from my course provided a good foundation to work from during the placement. By having a strong knowledge of Nutrition and S & C theory, you can establish respect from players and effectively answer questions they have.
The highlight of my placement has been supporting players pre, during and post-match throughout the season. This has given me vital experience of how to adapt to differing environments and contexts, but also a sense of achievement for working in a highly pressurised environment.
My placement has also taught me discipline, adaptability, verbal communication and athlete management skills. It has enabled me to put the theory I have learnt into practice, while understanding that despite the strength of any research evidence, the practical application of this theory is something that must be adapted to get the best out of each individual athlete.
My experience at West Ham has also helped to shape my career aspirations, while the knowledge and experience gained will be used, and hopefully developed further, to apply to my future work. It has also helped build my confidence and communication skills in front of multiple audiences.
I am currently concentrating of gaining the best degree possible, but after graduating I hope to secure a graduate placement or job in Strength & Conditioning or Nutrition, in football or another elite team sport, to build my experience further.
The advice I would give to someone considering studying Sport and Exercise Science at Loughborough is to follow the module path you find most interesting.
I would also advise gaining practical experience before moving ahead with the career path you think you want, as it can add perspective and great exposure to the role and others around it which may be more suitable for yourself.