Brad Mason
Course

Subject area
Having previously studied my first year at a different university, Loughborough University allowed me to move away from home, gain independence and study a subject that I am really interested in.
I decided to do my course first due to how interesting the course sounded. It allowed for cross-departmental study which allowed me to keep up my Spanish language skills by having credit-bearing modules through the Language Centre. A big appeal for choosing this course was the opportunity to do a placement year. Loughborough has great employability, and through the Careers network, I received a couple of different offers from companies to join them for a placement year. I am now joining that company as a HR Generalist in September 2019.
The variety of modules study is great here and they are all really interesting. It is also quite a small team of staff within social sciences, which creates a really nice student/lecturer-friendly relationship.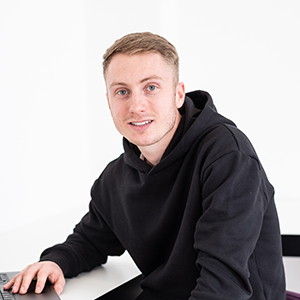 The staff are extremely helpful and very knowledgeable in the topic they are teaching as many are researchers as well as lecturers. Social and Policy Studies also have socials and subject-area teams. I participated in the subject-area 6-a-side team and met many friends from different year groups.
The staff are very friendly and helpful as long as you put the effort in yourself. Lectures are more like seminars, interacting with students, creating debates, and discussions. The library has great resources meaning you don't have to spend your student loan on books!
Personally, I really enjoyed the research method modules. From first year all the way through to final year, I have been learning about different research methods and conducting research that is interesting to me. I specifically enjoyed Ethnographic research which is what I used for my dissertation.
I had great support from the Social Sciences placement team and the Careers Network whilst looking for my placement. My dissertation supervisor allowed me to work to the best of my ability through his support and guidance.
I was offered a role which I started in September 2019 as a HR Generalist at the company where I did my placement. My degree has taught me about important issues regarding race and gender within the workplace.
My favourite thing about Loughborough has to be the opportunities to get in involved in many different things. For me I was involved in mainly sporting events and competition with my housemates and course mates, however, I was also involved in working for the University as a Student Ambassador as well as working for the Loughborough Students Union for three years.