Tymèle
Current student, International student
Course

Subject area
My PhD focuses on improving the way pharmaceutical drugs are administered. The most common way to administer a drug is orally, e.g. swallowing a paracetamol tablet. Unfortunately, it isn't the most efficient way to treat a disease as the drug has to go through someone's entire digestive system before it reaches the bloodstream and eventually the target site of action (e.g. the organ that's painful or causing the disease). And on its way, the drug is absorbed by lots of cells and organs that have nothing to do with the illness to be treated, which can cause numerous side effects.
The aim of my PhD is to use polymer microparticles as drug delivery vehicles and use them to provide a targeted treatment. This means that the microparticles containing the drug will only release the drug at a specific target location, at a particular time and for a precise duration, greatly reducing side effects and improving the efficiency of the treatment.
I did my undergraduate degree (equivalent to an MEng here) in Materials Engineering back home in France, and then an MSc in Advanced Materials Engineering at Cranfield University, before starting my PhD. It's during my MSc thesis in bioengineering where I worked with a PhD student that I decided I wanted to do a PhD; before then I had no idea what a PhD even was! Most of what I do for my PhD has very little to do with my undergraduate degree or MSc, so I had to learn a lot very quickly when I first started but it certainly didn't discourage me and I'm now pretty proud of the work I've done for the past 3.5 years.
I was sure I was going to get a job after my MSc but I just couldn't really find anything that excited me. Doing my MSc thesis on a project that mixed engineering and medicine was a revelation to me as it combined two fields that I was hugely passionate about but never really thought of combining before. That's when I started thinking that perhaps I could do a PhD in this area so I would learn more about it and contribute to making people's lives better.
Honestly, I didn't know about Loughborough University before starting my PhD. My first criterion was to find a funded PhD that really interested me, the university really wasn't my priority. It's only when I got the PhD and started telling my friends that they said I would love Loughborough as it is really big in sports and I'm quite an active person. They were definitely right!
I really want to research and engineer innovative solutions to current health problems and improve the way we treat illnesses such as cardiovascular disease or cancers. My PhD research is the first step in that direction and I'm hoping to join a company that shares this ambition when I graduate.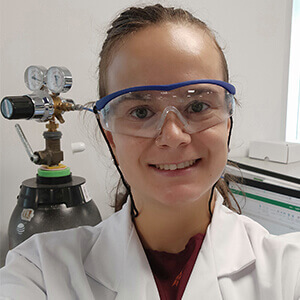 The flexibility is one of the things I enjoy the most about a PhD. I'm completely free to work the hours that suit me most, and that's amazing.
It means that if I have, say, a medical appointment at 1pm, I can go and make up for the time later that day or on weekends. The other thing I love about doing a PhD is being pretty much totally responsible for the project, from beginning to end. When I encounter problems in the lab (pretty much on a weekly or even daily basis), I'm the one who needs to find a solution by trials and errors, reading papers, or asking for help…lastly, doing a PhD means always learning and that's a privilege I don't take for granted.
The beauty of a PhD is that everyone has their own routine. In my department, some people, like myself, start the day very early while others come a little later. As long as the work gets done, it doesn't matter if your day starts at 6am or 1pm.
Personally, my day always starts by putting my lab coat, gloves and goggles on and heading to the lab right away to prepare my experiments. I then run the experiments of the day, each one lasting anything between three and seven hours on average (if everything goes well). I end the day by analysing the data, replying to emails and planning the next day. The rest of my day is taken by sport, volunteering, socialising and reading! I also meet with my supervisors once a month and teach to first year Chemical Engineering undergraduate students.
I mainly use the labs and offices in S Building as it's where I'm located. I have my personal equipment but also use shared kits available to all PhD students in the department. If I need a specific piece of equipment used by another research group, I can ask them to borrow it and to train me on it.
Throughout my PhD, I have been involved with the Women's Engineering Society, LSU Action and the Loughborough PhD Social and Support Network. I cannot recommend getting involved enough (if you can). Doing a PhD is very stressful and can be quite isolating, so having something outside of my research was essential to my wellbeing. Not only did I meet incredible people and learn a plethora of skills, but it was important to me to give some of my time to people in need.
Recently, I've also been working at the COVID Asymptomatic Testing Centre.
I've had multiple occasions to present my work during my PhD, whether at local and national conferences (in person and online) or at seminars within my schools. I've also been invited to talk about my research to Loughborough Chemical Engineering undergraduate students or primary school students.
My proudest moment so far has been to be awarded the Presidential Award at the PhD Award Ceremony in 2020 for the volunteering I did throughout my PhD with the Loughborough PhD Social and Support Network, the Women's Engineering Society, LSU Action, as a student representative and as a STEM Ambassador. I'm really passionate about gender equality and supporting the PhD and local community and it was an honour to be recognized by fellow PhD students for it.
Do your own thing and don't compare yourself to others! Doing a PhD is an incredible opportunity to deepen your knowledge in a specific field. Everyone does it differently, and everyone's experience is going to be very different. There is no right or wrong way to do a PhD.
Be prepared to fail, and that's okay! A PhD often means doing something new, so you're definitely going to make mistakes along the way. The main thing is to learn from these mistakes and to take constructive criticism on board to do better. I probably spent 60% of my PhD failing. But that means I also spent 60% of my PhD looking for and eventually finding solutions, and that's so valuable!
Do not wait until the last minute to write your thesis. I'll repeat for the people at the back. Do not wait until the last minute to write your thesis. Start right away, bit by bit. Writing 200-400 pages in one sitting in 3-6 months while being emotionally and physically exhausted after 3-4 years of hard work is going to be such a challenge. How are you going to remember the experiment you ran 2 years ago?! In my opinion, writing your thesis as you go gives you the best chance to finish your PhD on time (along with consistent and efficient work).
Do something else outside of your PhD (if you can). Whether that's sports, volunteering, reading, knitting, or joining a club. Take care of your physical, emotional, and mental wellbeing. Make memories, not just results.
Enjoy what the University has to offer. It's going to be your last years as a student (except if you feel like going for another degree), so make it count!