Thomas
Current student
Course

Subject area
My research studies the thermal, mechanical, and chemical interactions between the biopolymer cellulose and two compostable plastic materials, one derived from fossil fuels and the other plant material. I also study end of life waste treatment options by conducting simulated industrial composting experiments as well as reviewing literature around waste.
I decided to undertake a PhD in this particular area as I feel very strongly about waste and many of the misconceptions around it, particularly for plastics and the emerging bioplastics. The way these materials are developed, designed, used, and disposed of is changing and I wanted to be a part of that development. I decided to build on this passion as my undergraduate placement really opened my eyes to research and is what first had me consider a PhD.
Before my PhD I attained a master's in Materials Engineering, also from Loughborough. I started on a bachelor's, somewhat unsure after leaving secondary school, but once I was comfortable I had made the correct choice, I was able to move up onto the master's course to delve deeper. During my degree, I also secured a placement year with LKAB Minerals, a Swedish mining company, where I worked in research and development for fire retardants. This gave me invaluable experience of industrial research in the lab but also the office, the initial planning of business-relevant research and then reporting to senior managers.
I was very familiar with Loughborough and the opportunities afforded by being here. I was friendly with a number of PhD students and lecturers (supervisors) which helped me understand what research could be like. I had already searched for various PhD projects at different universities until I had one put forward to me, with funding, in an area I am passionate about. I knew I would enjoy continuing to be involved with activities at the University, so it made sense to make the most of it!
My proudest moment would probably be my master's graduation. It was very difficult leading up to the final exams and group project submission, but I managed to graduate with a First Class with Honours alongside so many friends. At the same time, I had my PhD interviews and within two weeks had graduated, secured my PhD project, and started. It was very hectic, but all paid off!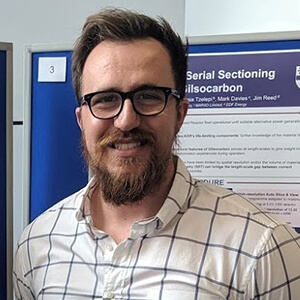 There are many support channels available across the University. The primary point of contact will be your supervisor(s). This is also backed strongly by the Doctoral College and Careers Network who support your development beyond just the research, via training and events. The Student Advice and Support Service is also very important for mental health related queries.
As I have relative freedom with my work, I prefer to work into the evening rather than be an early riser. I will typically perform desk-based tasks at the beginning of my day and tick a few items from my to-do list which helps to keep me on track. Then I will rotate around conducting or planning experiments in the lab or managing other projects/extra-curricular areas. This entails a lot of reviewing literature, planning, thesis writing, and ultimately time management!
Most facilities I need are in the Polymer Processing Lab. Here, I make use of internal batch mixers and extruders for creating composites which I then hot press. There is also plenty of characterisation equipment (such as differential scanning calorimetry, haze, capillary rheometry, and tensile testing). We also have a wet chemistry lab that I use to create and purify new substances for testing; plus, the Loughborough Materials Characterisation Centre (LMCC) provides space for electron microscopy and other advanced characterisation techniques to delve into the physical structures of the materials. Combining these techniques gives a great overview of the composite's properties.
I really want to work in the field of discards, that includes waste but also beyond it, such as why people waste and, not just what or how much. My PhD was not industrially sponsored but I have secured two additional placements thanks to the University around this area. One was for Unilever research and development in their Biosourcing and Biotechnology team assessing alternative carbon sources for materials and formulation ingredients. The other is for WRAP, a waste and resources charity that promotes sustainable resource use through materials selection, design, recycling, and other areas.
In five years' time, I hope to be managing areas related to recycling and wastes, improving the circularity of discarded resources that have lost value to the initial user, but are not inherently worthless.
Consider your passions and look around for research areas within it. The PhD is tough but finding the area that invigorates you is extremely important. You will have to develop good time management skills too, so I would practice organisation as early as possible.
I have been able to participate in so many additional activities: research, extra-curricular, professional, and social; all of which have been paramount to me growing as an individual and giving back in the same areas. There is a wealth of impassioned individuals that make up the identity of Loughborough and that really does make it enjoyable to be a part of.
I have previously been a Doctoral (and Lead) Representative for my department (and School), as well as Doctoral Co-President. These roles were very important to me as they helped improve my engagement and action on key social issues affecting doctoral researchers at the University. This is something I try to maintain and am currently a member of the Loughborough Students' Union Democracy and Representation Committee which provides a platform for setting the policy of the Union's activities and to maintain accountability. Further to this I recently joined the School of Aeronautical and Automotive, Chemical and Materials Engineering Equality, Diversity and Inclusion Committee and became a Facilitator for #ME Mental Health Support.
I am also a member of the Women's Engineering Society and The Chartered Institution of Wastes Management. I have performed various presentations over my studies namely around biopolymeric materials and waste, particularly misconceptions around them!
Studying for a PhD has taught me that that I am capable of more than I had previously thought.