Taylor
Current student
Subject area
Studying a master's degree at Loughborough allows you to extend your skills, giving you the best chance to work in elite sport and secure roles in some of the biggest clubs in the world. My course has really pushed me and brought out the best of my abilities.
I chose Loughborough's Applied Sport Performance Analysis programme because, as well as joining one of the best sport universities in the UK, it offered a range of interesting modules with a higher level of skills - such as creating high performance cultures - being taught and developed in comparison to similar programmes at other universities.
As an applied course, there is a constant link between what we are being taught and the work we do within our placement environments, which made applying theory into practice in a professional setting feel natural and offered a real insight into what it will be like working in elite sport.
My placement at Aston Villa Football Club as an academy performance analyst has been pivotal in my development as it has allowed me to immediately apply and utilise all the skills learnt in a practical environment. It has been amazing to really feel as though I have been able to make an impact at such an esteemed Premier League academy whilst still in the infancy of my career.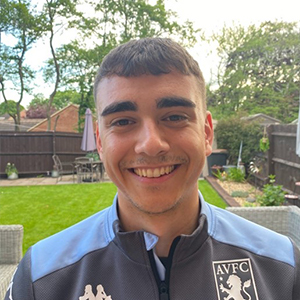 As students on the course work across a variety of placements, this allows us to bring further information, skills and observations from placement back into the course to help develop the learning of others and becoming the best analysts we can be.
After graduation, I hope to get a full-time role at a football club, which is looking increasingly likely with thanks to the skills I have learnt on this course as well as the relationships the university has with sporting organisations. Loughborough's reputation within sport means that networking opportunities are plentiful, employers are always interested in what you can offer their club.
Throughout the programme, we have always had access to, and interaction with, leading performance analysts who were happy to answer any questions we had. This experience has allowed us to gain as much knowledge as possible and has given us the best chance of a successful career after graduation.
As well as being taught by leading industry professionals, it's great to be taught by staff who are fluent in the specialised computer programmes we use. Being taught by experts who fully understood the software allows us to easily learn the benefits of the software in an applied setting.
As a performance analyst, we are very dependent on various software, lots of which is very expensive, so it was great that the University provided this for us free of charge on our personal laptops. This allowed us to gain extensive experience and an in depth understanding, in various software which we will use in our future careers.