Sarah
Alumna
Course

Subject area
My practice-based PhD research aims to explore whether textile crafts have the potential to provide men with a therapeutic tool that they can use to help prevent or reduce the risk of deteriorating mental wellbeing. We all have a state of mental wellbeing and it is important to nurture and maintain it.
There are several significant research studies providing evidence of the therapeutic benefits of textile craft processes to health and wellbeing, however they often focus primarily on women, whilst the male suicide rate in the UK is three times higher than in women.
Using community-based practice in the form of an all-male textile craft group called ManCraft at a Leicester-based arts organisation, Charnwood Arts, I aim to extend our understanding of the value of textile making in relation to mental wellbeing and to increase knowledge and understanding of the role of the arts worker/facilitator within community-based art practices.
Before commencing the PhD, I was enrolled on the Art in the Public Sphere MA at Loughborough University. I did this part-time whilst also working part-time for Loughborough Students' Union (in the art shop) and volunteering at Charnwood Arts. The decision to undertake a PhD in my area came out of my MA practice. I worked closely with members of Charnwood Arts' RawArt, a fine art group for adults with long-term and enduring mental health illnesses. I ran several textile workshops and the feedback I gained from participants sparked an interest in the potential wellbeing benefits of textile craft processes.
Having previously studied at Loughborough University for my degree in Fine Art and my MA Art in the Public Sphere, I am familiar with the friendly staff and technicians. I have found all the staff, from admin to technical tutors and lecturers, supportive and encouraging; their help and support has been crucial and invaluable. It was my MA lecturers' trust in me and my ability that finally persuaded me that I could attempt a PhD. I received a scholarship in 2015 from Loughborough University to fund the PhD research.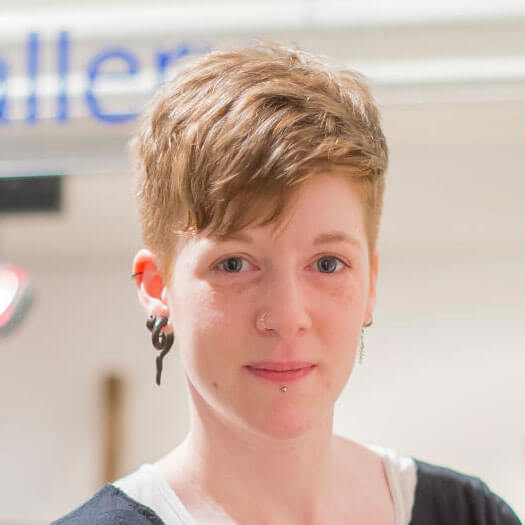 I enjoy being part of the art department's community; every time I visit the department I will bump into other researchers, staff and students. Those brief encounters are wonderful and leave you with a lingering smile. It is lovely to feel a part of something bigger. I have also enjoyed being involved in several of the University's research groups including the Politicised Practice Research Group and the Textile Design Research Group. My involvement in these groups has led to other opportunities for personal development.
I would be lying if I said it wasn't hard to study a PhD. You need to be focused and self-motivated and at times it can be frustrating and overwhelming. However, you have the freedom to explore your own subject area which can be truly exciting, if a little daunting. I found completing a master's to be a helpful step towards the PhD, but the experiences have been quite different. As a PhD researcher, you spend a lot more time outside the University attending and presenting at events and conferences, meeting fellow researchers, academics and practitioners in your field of study. PhD research is also much more self-directed, both in terms of research content and training. You have to find your place in the world of research.
My day-to-day life varies. Some days can be quite isolating, whereas others are crammed with back-to-back meetings, events and conferences. That's what makes it so exciting to be a researcher - the variety. The highlight of my week as a PhD researcher is when I get to work with my group in the community. The day begins like every other, checking emails and catching up on admin. I often try to fit in some reading and writing as well before I go to Charnwood Arts. In the afternoon, I work with participants of RawArt and then later with ManCraft, my own textile craft group for men. I love it! It's unpredictable and often manic, but I love seeing participants progress and we often have a bit of banter too. After the workshops, I write a new entry in my journal documenting the activities of the group.
In the future, I hope to continue my community-based art practice with communities and perhaps even continue to contribute to research in 'arts for health'. I believe that art practices, in the right environment with the right practitioner, can aid individual and community wellbeing. This is something I feel passionate about and I would like to continue to develop methods of practice alongside the participants and communities I work with.
If you are considering studying for a PhD I would say read, read and read some more. Also, start using a reference aid, such as Refworks or Medeley straight away; this will help you keep track of your reading and will help with your bibliography. Keep writing - it doesn't matter what you write some days but just keep it up, even keeping a diary or log of what you are up to can help. And remember to take a break every now and again. It can be difficult to allow yourself a break in amongst everything but it is worth doing; go for a walk or seek out friends - it can ground you, stop you feeling so isolated and refresh your brain.