Sam
Current student
Course

Subject area
I am studying storytelling in independent professional wrestling. The purpose of the study is to understand the role of storytelling in professional wrestling. It looks at how storytelling functions in wrestling, how stories are created and performed, and who is involved in wrestling storytelling. It also aims to understanded why storytelling is important to both the people working in wrestling and the audiences they perform to.
The reason for the study is to find out how participants view storytelling in wrestling. I want to find out what attitudes people have to storytelling, the level of importance they place on it, and how they incorporate it in their wrestling work. Interviewing professional wrestlers and people working in wrestling will form a major part of this research.
I would like to show that wrestling, like all forms of art, can and does have something important to say about the world around us. Beyond the pantomime violence and amateur dramatics wrestling can be a powerful storytelling medium and a force for good.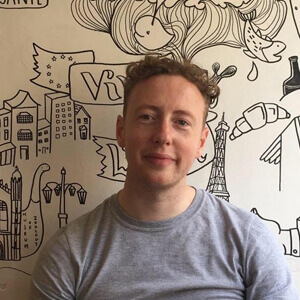 It is a subject I have been passionate about my whole life. I remember first watching wrestling when I was 5 years old and it has always stayed with me in one form or other. Then, three years ago, setting up Wrestling Resurgence was an incredible experience, by far the best of my career. When the opportunity came up to dedicate 3 years of my life to that, I couldn't not pursue it. It's one hundred percent a project rooted in that passion.
Loughborough was a strong supporter of Wrestling Resurgence awarding us an innovation award in 2018. This combined with Loughborough's incredible reputation for storytelling meant that it was really the only place where this project, which is somewhat unique, could take place.
Prior to starting my PhD, I was working as a curator in contemporary visual arts at Attenborough Arts Centre in Leicester. I spent 5 years in that role where I was responsible for planning exhibitions, commissioning artwork, and supporting artist development.
Wrestling Resurgence have run sell out live wrestling events in arts galleries such as Nottingham Contemporary, Attenborough Arts Centre in Leicester, and even Loughborough University's Martin Hall Theatre. The last show we staged was attended by over 250 people. Our shows normally feature 6-7 wrestling matches and include professional men and women wrestlers from across the UK. Our shows are family friendly and packed full of physical comedy, spectacular stunts, technical skill, and breath-taking action. It is a bit like a cross between a comedy show, variety theatre, and a rock gig, but starring comic book superheroes.