Ricky
Current student, International student
Course

Subject area
Loughborough has state-of-the-art teaching facilities and an extraordinary relationship with leading companies that can help me to grow as a future engineer. Additionally, there are plenty of sporting facilities and societies that have been very helpful in expanding my social life, making a healthy study and life balance.
Loughborough's strong dedication to the automotive industry has been the main attraction point of my decision to study MSc Automotive Engineering at the University. This dedication can be seen through the amount of research and future-driven modules that are conducted inside the department, such as fuel-cell and battery technology. The department also has exquisite facilities that help massively with my studies, such as the laboratory activities using engine dynamometer and battery testing abilities. Most importantly, there is a study trip to MIRA proving ground, where students can design a specific driving test scenario to be carried out to collect real-world datapoints which will be used for a thorough analysis study. This experience is very valuable towards my progression as an engineer.
I also did an Automotive Engineering BEng DIS course at Loughborough University, graduating in 2020.
My primary goal of studying automotive engineering in general is to contribute towards the development of future mobility projects, and this programme has great future-driven modules, such as 'Autonomous Vehicles' and 'Sustainable Powertrains'. Although I did not have any intentions of doing a master's degree, I am glad that I took this MSc programme as it provides something more towards my expertise.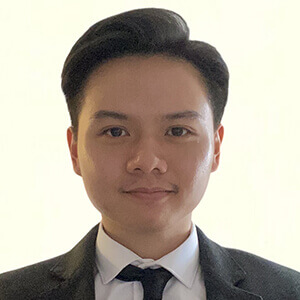 The experience obtained in Loughborough University is unique as it prepares students to pursue a further career, whilst also providing a good social life with the availability of various societies and a strong community. I would personally recommend prospective Loughborough University students to maximise the facilities provided by the University and to make as many friends as possible.
Using the block-taught module system, the learning period is kept short for each module with more emphasis towards self-study and a learning-by-doing approach. Through the coursework and projects supplied in the modules, I have been able to enhance my capability in thinking critically using a data-oriented approach. The teaching staff, however, are also very reliable in giving support and explanations alongside projects.
The facilities in the department are nothing short of excellent. The department has a wide variety of teaching facilities, such as a wind tunnel, engine dynamometer and fuel-cell laboratory, which can be used to improve my understanding of some complex engineering concepts and hands-on skills.
During the COVID-19 situation, my day-to-day routine may be slightly different than the pre-COVID days. My average day during the learning week would be attending extensive online classes from 10am to around 3pm, with a combination of tutorial or remote PC lab sessions. During University breaks, however, my day would consist of carrying out my personal final year project and coursework research.
The teaching staff are very helpful in giving project support and result feedback, which helps me to realise what I did wrong and what I can improve for the next project. Teaching staff are generally not hesitant to create an extra session to enlighten some difficulties found in coursework. The department also has very good professional software, such as NX and Marc Mentat, and online library accessibility, which allows me to research for various journals online.
I would say that my greatest achievement during my time at Loughborough University would be when I got an industrial placement experience with Bentley Motors. It was an extraordinary experience which allowed me to learn and practice my skills in a fast-paced industrial environment.
Through my final year project on Kalman filters, I have familiarised myself dealing with simulation-heavy works using MATLAB and Simulink. This project gave me a good understanding of building a mathematical model representative of a real-world system, while also understanding the limitations of this model. Moreover, this project also initiated my interest in performing further study on control engineering and model analysis.
There is definitely a strong sense of community in the University, which is always great to have, especially being an international student. The University is welcoming of international students and provides necessary help to ensure students' success in the University.
Being a part of the Loughborough Family has been a pleasant experience, and I would say that – although it may sound niche – it may be my favourite thing about being a Loughborough student. By being a Loughborough University student, I feel like I have made a huge improvement in both my technical knowledge and social life.