Rebecca
Current student
Subject area
I chose to study at Loughborough because I knew the reputation the University has, as well as the teaching staff, facilities, and opportunities available career-wise.
I wanted to push myself out of my comfort zone and surround myself with both the best academics in the world, but also like-minded students.
The modules have covered various topics related to strength and conditioning, which I may not have thought about before. Lecturers are always available when you have a question, whether that be inside or outside of a lecture. It is a massive bonus that they are all experts in their field too, as they can provide you with so much extra knowledge around a topic.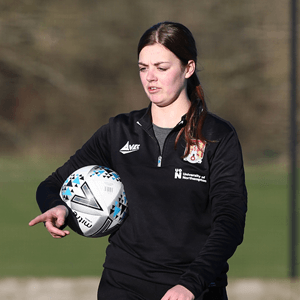 We have also had exposure to multiple guest lecturers who are experts in their field, whether from an applied or academic background, which has provided a really good insight into their areas of expertise. Being able to undertake practical sessions within Powerbase or the sports halls has been fundamental to the programme so far, as it allows us to put our skills to use in an applied setting, whether those skills are technical or communicative.
I started a placement with the Men's Hockey 1st team a couple of weeks into my course, as a Strength and Conditioning intern. Being able to learn and develop under the full-time coaches there has been incredible; their knowledge and expertise has helped me so much in such a short space of time.
The fact we get to do it in a gym like Powerbase just makes the learning process even more enjoyable. This is the kind of opportunity I was hoping to find when I came to Loughborough and I am so glad I did not pass it up.
After graduation, I would love to obtain a position as a Strength and Conditioning Coach within a sports club, whether full or part-time. Just working in sport, helping the general population to become more active or working with elite athletes is what I would love to do. Loughborough has equipped me with not only the knowledge for these kinds of roles, but also the coaching skills and how best to work with different athletes.
The advice I would give to someone considering studying the programme is to try and get as much experience as you can before you apply, even if it's just helping out a local team, as you will be able to relate this experience to the things you are taught on the course so much more.