Rafael
Alumnus
Subject area
One of the major reasons that I chose Loughborough University was the fact that it is ranked as the best university in the world for sport-related studies*.
The combination of the University's educational standard, along with the outstanding facilities and the numerous industry connections also made Loughborough University the ideal place to host my postgraduate studies. The Strength and Conditioning course is so well structured, equipping you with all the essential qualities required to characterise any successful Strength and Conditioning Coach.
The academic staff that were involved in the delivery of lectures and practicals are leaders in their field. I had constant support from my tutor about any issues or questions I had in relation to the course. In addition, the Programme Leader is a UKSCA Tutor/Assessor - therefore, his advice on how to prepare for essential industry qualifications like the UKSCA ASCC and NSCA CSCS is invaluable.
I had the opportunity to take an internship as a Strength and Conditioning Coach with Leicester Riders Basketball Club, where I was able to apply my knowledge to practice and develop my practical skills. Through the support of the Lead and Head Strength and Conditioning Coaches, I was able to effectively reflect on my practical skills and knowledge and identify areas of improvement, which vastly contributed to developing professionally and getting more confident in coaching.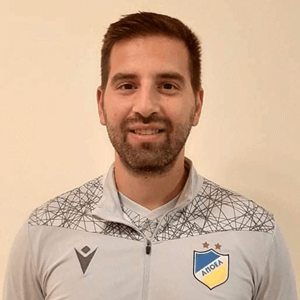 I currently work as an Academy Strength and Conditioning Coach at APOEL FC in Cyprus. I mainly work with the youth teams (U16, U17 and U19), where some of my responsibilities include leading the testing and monitoring process, as well as the design and delivery of gym and field-based strength and conditioning training.
My role allows me to apply and gain experience in novel concepts regarding strength and conditioning training, such as the micro-dosing of strength training and the application of resistance priming.
I have always had a passion for football since it is the sport that I grew up playing. After gaining some practical experience through my placements and internships in a wide variety of sports, I decided that I would love to focus my career on football, after verifying that it is the sport that fulfils me the most.
Throughout my degree at Loughborough, I had the opportunity to be lectured by professionals that work in elite-level football. Their applied knowledge and experience is really valuable in understanding the skills needed to succeed in elite-level sport, and helped to prepare me to successfully undertake my current role.
The assignments were also extremely flexible in regard to the sport and topic chosen, which allowed me to focus on specific topics that I was highly interested in, and I am currently implementing what I learnt from these.
The best advice I could give to somebody studying on this programme is to engage as much as possible with the course, as it really gives you amazing opportunities. The opportunity to be so close to world-class academics and professionals is unique and precious, therefore take that advantage to grow and develop as a practitioner as much as possible.
*1st in the world for sport-related subjects (QS World University Rankings by Subject 2017, 2018, 2019 and 2020)