Philip
Current student
Course

Subject area
Being named as a Future Leader made me proud and motivated. I got the opportunity to meet great current and future leaders within the world. Being in rooms with such people motivates me to reach those heights because I know that it is possible.
Data Science student Philip Ilono has been named as a Future Leader along with 149 inspiring students and recent graduates from across the country. The list was published in Future Leaders, an annual publication which aims to guide and inspire future black talent across schools and colleges. Philip, who previously graduated with a degree in Electronic and Electrical Engineering from the Wolfson School, was chosen due to the activities he undertakes outside of his degree, including work for his church and developing an app to solve real world problems.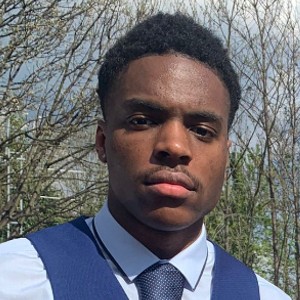 I had decided to undergo my bachelors project in developing a British Sign Language recognition model for the alphabet and the process really encouraged me to go into data science. I had no prior knowledge or understanding of the field but research throughout the year made me certain that this is what I would like to do with my career.
I enjoyed the block teaching method where we learn a module in 2 weeks then have 1 week for completing the assignment. It was less stressful as you only had to focus time on 1 topic/area rather than juggling 3 at once. I also felt like it kept you on your toes as 2 weeks isn't a long time and you could see the finish line from the first lesson, which helped for motivation.

My favourite model was Statistical Analysis and Methods because we got the chance to analyse data in order to estimate or predict other outcomes. The examples used in lectures were often about football players' positions and goals scored. As an avid football fan, it was fun to analyse patterns and visualise them from the data.
Activities outside my studies are important to me as I want to gain as much experience as possible for the career and life I want to achieve. Also, I don't participate in them just to boost my CV; I believe that these experiences have given me a great insight and understanding of what I can do later on in life. Gaining knowledge and experiences motivate me; I want to have as much unique and special moments in my life that I can.

The university careers network were very helpful in analysing and reviewing my CVs and cover letters in applications for hackathons and events. One of the cover letters managed me to get into a JP Morgan Code For Good hackathon.

I hope to be able to obtain research opportunities in machine learning or become a senior software engineer or data scientist in a big tech company. Hopefully, I may also have the opportunity to pursue a degree in Quantum machine learning.
I would recommend Loughborough University to prospective students due to the community environment. It's a uni filled with competitive students that are team-oriented so a lot of other students are willing to form new bonds which is useful for connections.
If you're unsure on whether you know enough programming or maths to do it then this is the perfect course for you. Many students who undergo it have no prior STEM related degrees so it's a perfect course for conversion. The course is block taught so if you prefer only undergoing 1 module at a time then this course is perfect for you.