Oscar
Current student
Course

Subject area
I was lucky enough to get a place on the science and engineering foundation year at Loughborough in 2013, which allowed me to progress onto one of the best materials degrees in the world. After completing my master's degree here and having built a strong friendship and rapport among the students, researchers, and faculty alike, it was a clear choice to continue onto my PhD at Loughborough. After all, why go to another university when you're already at the best one for the subject field?
In the world of materials there are three key areas: ceramics, polymers and metals. During my undergraduate degree, I completed dissertations in ceramics and polymers. When I came to choose my PhD, I wanted to complete the trifecta and perform research into metals so that I would have a vast comprehension in all the subject areas of materials which would set me up to move into a range of post doc positions without limitations. I am now investigating how the microstructure and mechanical properties of experimental stainless steels change when exposed to the operating conditions of nuclear power stations for 40+ years.

Studying for a PhD at Loughborough doesn't feel like studying. After years of "studying" for a degree, and now being able to work on my PhD, I can say they are vastly different ways of being. Firstly, I was able to choose the area of research that my PhD is focused on rather than being told what to learn and study. Secondly, I can work to my own schedule with flexible working hours and location with trust from my supervisors that any work that needs to be performed will be completed by the required deadlines. Thirdly, it is my responsibility to complete the work as my supervisors are there for guidance and help which gives me a great sense of autonomy and pride. As a result, my self-motivation and critical thinking skills have improved significantly.

As a PhD student each day is different, so describing a typical day would not be representative of the life of a PhD student. The tasks vary from day to day, week to week, month to month, but I find myself growing and improving continuously. However, there is a general cycle of repetition that takes a month or so to complete. Firstly, I examine literature and discuss possible tests and hypothesis with my supervisors. Secondly, I plan the next few experiments. Thirdly, I conduct those experiments and collect data using a range of different equipment and tools - everything from high temperature furnaces through to Transmission Electron Microscopes. Then my favourite part: analysing the data to see what we have found (if anything at all) and seeing if it matched up to literature, or if we have discovered something new. Finally, I write up those results for progression or supervisor reports and then we plan the next set of experiments, and the process continues until you have a PhD or EngD. Sometimes this process can be done in a matter of days, and other times it can take a whole year to complete a full cycle. Every PhD is different which makes them so exciting and challenging!
The department provides each PhD student with a fully capable desktop and standing desk in a newly refurbished, open plan, bright office with a great and close-by kitchenette with free teas and coffees! Alongside the vast range of hi-tech microscopes, laboratory equipment and brilliant testing facilities, I believe these are the most important facilities I have access to as this is where I spend most of my time. After having spent a year in industry working for a global engineering company, the office space provided by the University is truly world-class and allows me to work to my full potential and be happy coming to work. A happy PhD student is a productive PhD student!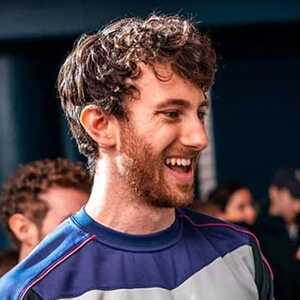 The support for PhD students is endless. From a great support network of other PhD students both formal and informal, such as the PhD student representative committee, who pass all official concerns through the proper channels, to simple group chats and coffee mornings, you feel part of a great community of like-minded individuals. The Graduate School provides other great learning opportunities, such as teacher training, so you can perform extra paid work by teaching tutorials at the University. Of course, there is plenty of support for mental health and financial advice available as well, and your direct supervisors are also fantastic for helping you develop continuously throughout your PhD.
During my university career I have several proud moments. I achieved the highest mark on my foundation year and achieved a scholarship for my degree which confirmed to me that I belonged at university. I joined the kickboxing team and beat all previous records to win five national heavyweight kickboxing titles. As club chair, I grew the membership of the kickboxing club from 60 to 120 members, making it the most popular martial art club, and organised a number of large events such as fight nights at the University. I achieved several academic prizes during my degree, including a number of 'most improved' awards and being part of the winning design team in our master's year. I was nominated for a Loughborough student experience award, achieved full sport colours and finally in my last year, I achieved the Ann Wilson Award for sporting excellence. All these moments, the friends I made and achievements I earned allow me to say that being part of Loughborough University is my proudest moment.

After completing my PhD I plan on doing a post doc, as my experience of doing a PhD has been so positive that I want to continue on this journey.
In five years' time I will be a doctor with a number of published studies that have advanced the scientific community in small or large ways. I could be anywhere in the world, and I will continue to perform as much meaningful research as possible. While studying for my PhD, I have learned that research is not as intimidating as it sounds and that making mistakes and learning from them is all part of the process.
To future PhD students, I would say you are all capable of doing a PhD, performing meaningful work, and contributing to society and, at the end of it, people will address you as Doctor!