Sport and Exercise Psychology MSc student Oliver Wright explains how the teaching on his degree programme has inspired him, and course-mate Jonathan Brain, to launch the Mastering the Mind podcast.
I applied to Loughborough University in the hope of reigniting my passion for Sport and Exercise Psychology. Looking back, it was one of the greatest decisions I have ever made.
I was aware of the world-class teaching and expertise Loughborough University could deliver to me, especially in relation to a sport-related MSc. I have now well and truly got my passion back for Sport and Exercise Psychology and am extremely excited for the future.
The course has been very interesting overall, covering a wide range of modules. Specifically, I found the Performance Psychology and Management module to be extremely useful. The coursework included producing a blog relevant to the content of the module. My blog was on coping with stress and anxiety in sport. We were told to gain real world impact, by promoting the blog on websites, social media, and podcasts in the hope of helping someone. This was definitely out of my comfort zone, but turned out to be the best possible experience, as it gave me the inspiration to start a weekly podcast and my own social media accounts and pages dedicated to Sport and Exercise Psychology.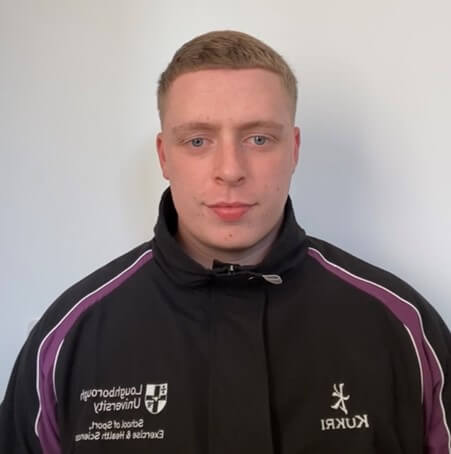 Jonathan Brain (who is also studying for a Sport and Exercise Psychology MSc) and I created the Mastering the Mind podcast with the aim of sharing, translating and demystifying sport psychology content to coaches and athletes of all levels, as well as others interested in the field. We also wanted to provide a new type of sport psychology podcast, providing relatable content from a student's perspective.
Since starting the podcast, we have secured some high-profile guests, including Olympic athletes Holly Bradshaw and Emily Borthwick, as well as former Manchester United FC player Kenji Gorre. It has been a pleasure to have an in-depth conversation with these people and to gain an insight to their journeys.
Jonathan and I would love to do the podcast full-time, whilst forming a consultancy business where we support athletes and coaches from a variety of different sports. However, the main goal is to enjoy the process, not to become too obsessed with numbers on social media and have a positive impact on people's lives.
The advice I would give to someone considering setting up their own business is to do something they enjoy, as the long days and nights spent working on building your business do not feel like work if you enjoy it.
Time management is also a useful skill to develop. I own a gardening business that helps fund my studies. This requires me to work throughout the week whilst attending lectures, keeping up with recommended reading and completing coursework.
My personal academic tutor, Ian Taylor, has been very helpful in helping me to realise that an MSc is all about finding balance. Lecturers understand if I cannot make it to every lecture, as long as I catch up after work to ensure that my studies are not affected.
To listen to Oliver and Jonathan's podcast, please visit the Mastering the Mind podcast page on PodBean.