Natasya
Current student
Subject area
Upon comparing the modules offered by Loughborough University with other top University for Communication and Media studies in the UK, I could not help but notice that the course structure offered here is far more relevant to the current social and political contexts — great for future employment within the industries.
I did an honours degree in my home country, Malaysia, in Mass Communication and have worked as a brand marketer for almost 5 years prior to furthering my Master's degree here at Loughborough University.
The facilities at Loughborough are some of the best available, both academically and socially. There is a high standard of teaching and adequate support available from lecturers should you need it.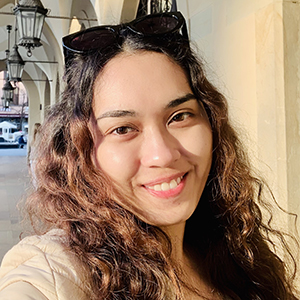 It was truly an honour to have learned the course from very established line of educators who are not only great in exerting their expertise and knowledge but also very supportive. The large campus boasts with great amenities and outstanding teaching facilities which makes learning experience very conducive.
I was offered prompt assistant by the University's student services team when I was facing issues regarding private accommodation insolvency prior to the start of the semester. Other than that, the department is very active on providing English language and academic support for international students where extra classes — online and physical — were being help throughout the semesters to ensure that we receive the best possible assistance if needed.
I hope that I will be able to fully utilize the knowledge I have gained throughout my course including research skills and cross-cultural insights that can be relevant when working be it in the UK or elsewhere. I can confidently say that I am now able to independently manage a research project, become more critical and creative in analysing. Not only that, I have also acquired greater sense of collaboration with lecturers and students from different disciplines and cultures.
There is always something going on where students can participate at their own will based on their interests — from art exhibition, volunteering, sport competitions, postgraduate get-together to name a few. The big campus boasts great atmosphere with great facilities and I love how it's always buzzing! I particularly enjoy the My Lifestyle program where we get to join different sports and activities daily and get to make new friends every time! I was part of the Malaysian & Singaporean Society and the Loughborough Islamic Society in which I have represented in both for Netball matches against other societies/universities and actively involved in social activities hosted by them.