Monia
Current student, International student
Subject area
I decided to undertake a PhD after a two-year teaching experience in the School of Fine Arts and Architecture at Antalya International University in Turkey. Before that, I had been working as a building professional during the post-earthquake reconstruction in L'Aquila in Italy. I chose Loughborough University because of the multidisciplinary research opportunities in the School of Architecture, Building and Civil Engineering.
Loughborough has a very multicultural environment, which makes it easier for international students to adapt. There are also teams of people that can help with accommodation, inductions and training to make the process more enjoyable. However, the most significant support comes from my supervisors who keep me on track while empowering and motivating me to do my best. That's what makes Loughborough so unique.
My PhD investigates the implication of public open spaces on the progression of urban vulnerability to earthquakes. I am looking at how streets and squares are configured, managed and used, to understand if, and to what extent, these three aspects and their interplay have an impact on the vulnerability of cities.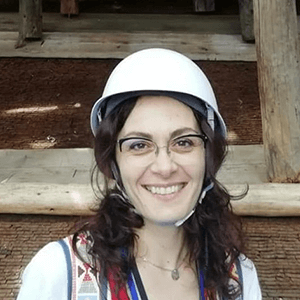 I am enjoying being involved in the research community at Loughborough. I have met some inspiring and committed people from different backgrounds who have now become my great friends.
I also like taking part in various activities, such as being a Postgraduate Research (PGR) Representative and co-chairing the HUB committee in the School of Architecture, Building and Civil Engineering to ensure the quality of both the physical and social environment in our workplace.

A day in the life of a PhD student can be quite busy! An ordinary day generally includes work for our research, which could be reading, writing, attending training, or even "just" thinking. In addition to our research, some of us are involved in extracurricular activities with other researchers. Many of us also like going to the gym, others prefer enjoying a coffee with fellow researchers on campus, or joining yoga or swimming classes at the end of the day.
The University also helps you after you've joined by offering training to develop research-related skills and providing funding opportunities to cover research-related travel costs.
I attended two international events last year: the I-Rec Conference 2019 in Gainesville (Florida), covered by the School of Architecture, Building and Civil Engineering Research Fund and Santander Travel Award; and the UNESCO Training Course for Disaster Risk Management for Cultural Heritage 2019 in Kyoto (Japan), covered by the Ede and Ravenscroft Prize. Both events have been extraordinary opportunities for my current and future development.