Milly
Current student
Course

Subject area
Loughborough is world renowned for its sports-related degrees and research, so it was a no-brainer to stay and do a master's in Sport Biomechanics.
The internship that was offered alongside my degree allows me to work amongst world-class athletes and coaches, which is an opportunity I do not think you would get at other universities. I also chose to study my MSc at Loughborough as I did my undergraduate degree here and just really liked the community and general vibe you get around the University, especially revolving around sports.
I think knowing that your lecturers are most likely top researchers in your subject is really comforting. They have such a wealth of knowledge and in my experience are always keen to help and genuinely love what they do. I also enjoy the opportunity to take part in lab sessions, which are great for putting into practice what you have learnt in lectures.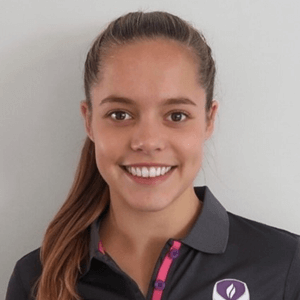 I study my MSc part-time alongside a Biomechanics and Performance Analysis internship with Loughborough Sport and British Athletics.
The Athletics Centre is a great facility. The equipment I have used to collect data from the athletes is a really good way to get a feel of what a career in this field could look like and enables me to gain hands-on experience which will put me in good stead to start a career in this field.
When I graduate, I would like to pursue a career in Biomechanics. I am not 100% sure what sport yet, but I am really enjoying working in Athletics at the moment as there is such a variety of events. I think the experience I have gained from the internship and the people I have interacted with during it will help me stand out from other graduates.
The advice I would give to someone considering studying this programme is that if you want a successful career in anything sports-related, it really is a no-brainer to choose Loughborough. You are surrounded by top athletes, coaches, sports facilities and world-leading research here - it just encapsulates everything you would need to have the best start in this field.