Mark
Current student
Subject area
By studying a PhD at Loughborough, I have had the opportunity to network and collaborate with world leaders in my field of interest, while being part of a social circle of talented early career researchers that are eager to support each other's development.
My PhD is enabling me to investigate the effects of low energy availability on markers of bone and cardiovascular health. I am also exploring the effectiveness of a brief, high-impact, jumping exercise routine in protecting bone against the effects of low energy availability.
I believe my research will help to highlight the health and performance implications of low energy availability and contribute to a shift in the philosophy of athletes and exercisers, promoting the importance of fuelling appropriately. I also hope that my research will generate interest in researching non-pharmacological therapies for situations where short periods of low energy availability are inevitable.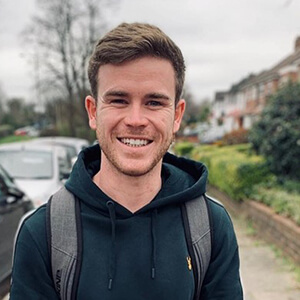 In the future I hope to secure a post-doctoral research position in the field of exercise and health sciences, followed by a research-intensive lectureship at a reputable university.
My experiences conducting and publishing experimental research, applying for research grants, and teaching undergraduates and postgraduates at Loughborough will be incredibly important in helping me to achieve my future ambitions. I would not have learned as much as I have up to this point without the support of a fantastic supervisory and research team.

I receive a stipend from the University and a small contribution to research costs. I have been able to increase the funds available for my research having been awarded a $5000 grant from the American College of Sports Medicine.