Maria
Current student
Subject area
The title of my PhD is 'Deciphering molecular crosstalk in the musculoskeletal system vesicle-mediated communication and its impact on bone health'.
All types of cells use a vesicle communication system led by what we know as Extracellular Vesicles (EVs). I am carrying out further research into how EVs work.

For example, we know that cells use EVs to communicate and transfer biological information between cells. However, we have limited understanding of how closely related tissues such as bone and muscle communicate using EVs.

A better understanding of how these EVs function and exchange information could open up new targeted ways of treating debilitating conditions such as osteoporosis.
When working in fields very closely related to therapies and diagnosis, access to the National Rehabilitation Centre will mean having human samples always accessible, as well as the opportunity to collaborate with medical experts, allowing me to build a higher level of understanding in the field.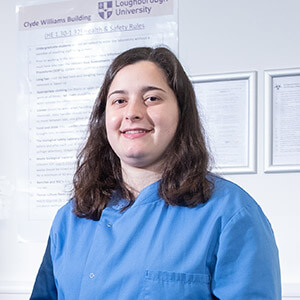 Before starting my PhD I got a BSc in Biochemistry before completing a MSc in Genetics and Cell Biology at Autonoma University of Madrid, Complutense University of Madrid (UCM) and Alcala de Henares University.
During those years, I was involved in lab research in Manuel Benito's lab in UCM. The main project I worked in was "The involvement of human amylin during the prediabetes-onset type 2 diabetes transition: a possible role on the regulation of brain-pancreatic flux".

Spending time with hard working individuals and experts in their field gave me the proper tools and perspective to start my PhD in the following years.
After finishing my PhD I would like to remain linked to academia. Research is my work and my passion; however, I would also like to be involved in teaching and inspiring future students.
The student environment at Loughborough, how well we are prepared, and the opportunity to gain some teaching experience, makes doctoral researchers at Loughborough great candidates for postdocs and for supervising students in the future.

Starting a PhD is not easy. If you're thinking about joining the Loughborough Family you have to be extremely aware of how responsible and how hard you will have to work for the next few years.

You will have to deal with frustration and bad days, but you should also be aware of how rewarding it is to see your work completed and look forward to seeing it successfully published. Think about the power you could have in changing people's lives.


*Maria's PhD is funded by an Academy of Medical Sciences research grant, obtained by Dr Owen Davies, Senior Lecturer in Molecular & Regenerative Biomedicine.