Lauren
Current student
Subject area
I attended Loughborough University for my undergraduate degree in Psychology and loved the university so I decided to continue my studies here. When choosing Loughborough for my undergrad, I knew I wanted a campus university with a great community feel to it. I visited Loughborough on an open day and fell in love with the campus and facilities.
I was unsure of a career path when I finished my Undergraduate, but I wanted to further the scope of my degree to include more knowledge surrounding politics and communications. The pandemic also helped my decision to study a master's as I felt as though I missed out on a lot of university life.
Every day is a learning process be it academically or at work, and I have always known that I wanted to further my studies and do a master's degree but could not find the right timing of doing so as I was fully committed in my career. The unprecedented pandemic was a turning point that had hit me on a personal level, which had ultimately motivated me into going back to school. Only this time, I knew I wanted to do it in the UK so I could expand my horizon and knowledge that checks major components needed to excel in the media and communication field.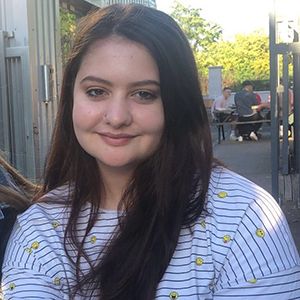 The greatest skill I have learned is to be highly critical of everything you see on social media. There is so much misinformation and disinformation circling online that I really value this course for teaching how to spot what is factual and what is not. This is a really great course for further developing critical thinking.
If you are looking to deepen your understanding of the impact and dynamics of globalization on contemporary society and culture, develop strong research skills as well as attain comprehensive social and political economic discourses, then look no further! This programme not only boasts great learning culture but also allows you to meet students from diverse backgrounds around the world for an enriched experience altogether!
I'm still not 100% sure what I want to do when I graduate. I think I would enjoy a job in PR and my dream job would be to work in social media marketing for a book publisher. I'm hoping my master's degree in communications will help me in the future as it has broadened my knowledge on the way in which social media can be used in political advertising. The skills learned on this course are applicable to a range of different jobs.
I would say that if they have a real interest in the political advertising, how it works and the criticisms surrounding it, this would be the perfect course. As for advice I would tell them to ensure they are 100% committed to the course and interested in the content because the workload is challenging and intense. If they have a passion for the topic and are hardworking then this masters is a great option. The social atmosphere on campus is my favourite aspect of the uni. Before the pandemic I loved going to watch all the sports events being held almost daily. I was a member of the equestrian club so I was able to go riding during the week which was a great break from the stress of studying. Joining clubs and societies was a great way to meet people and make friends as they hold a lot of social events. The nightlife is good fun too.