Krishna
Current student, International student
Subject area
I chose to study at Loughborough as it is the number one sports university in the world. It is renowned for the exceptional facilities on offer, as well as industry connections with elite organisations and clubs, academic practitioners, and experts working in the sports industry.
I have been really impressed by the willingness and availability of the lead lectures – Donald Barron and Dr Andrew Butterworth, who have provided support in every way possible and guide us both academically and with our careers.
Access to guest lecturers from across the industry has provided networking opportunities, as well as direct insights into how performance analysis departments operate in elite organisations and clubs. While exposure to key industry software, including SBG Focus, Hudl and Tableau has provided fundamental knowledge necessary for those wanting to work in the performance analysis industry.
During the programme I did a placement with Charlton Athletic Football Club as an academy performance analyst, where I was able to use my knowledge to demonstrate new ways of evaluating both team and individual performances. The placement provided a key bridge connecting the information I learnt during the degree with how to apply it in a practical setting.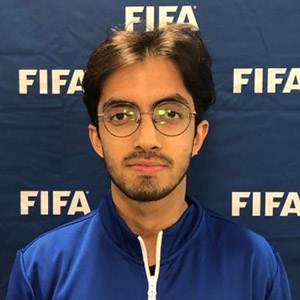 I am currently adding to my experience by working for FIFA at the 2022 World Cup, providing FIFA's medical department with a different level of insight into the mannerisms of how injuries occur during the match.
My role is to collect data about the scenario and sequences during which injuries and/or suspected injuries take place during the match.
This adds a different layer to my experience, as the majority of analysis that I have learned both at Loughborough and in my practical experiences has been in relation to how performance analysis facilitates coaching and the technical aspects of sport.
Being an international student, I intend to swich to the post-graduate visa, which will enable me to stay and find for employment in the UK for another 2 years.
I am thankful for the experience and knowledge gained at Loughborough University, for the way it has assisted me to secure a job with FIFA and hopefully secure a full-time role in football, cricket or tennis in the near future.
The advice I would give to anyone thinking of studying this master's programme is do not be afraid to utilise what you are introduced to during the lectures to create and develop something on your own as there is so much scope for creativity and invention with the current technology available.
Secondly, try to be interactive during the classes as Donald and Andrew create such friendly and warm learning environments. I found it extremely useful as there is so much you can learn by bouncing ideas off your classmates and listening to their experiences at their respective placements.
Lastly, explore and make use of the facilities and opportunities that are available at Loughborough University, as they have plenty to offer in addition to the lectures and seminars.