Kerry
Current student
Course

Subject area
My PhD project is based on the encapsulation of next-generation, narrow spectrum antibiotics. The issue of antibiotic resistance is of huge concern due to the essential antibiotic use in many industries (chemotherapy, organ transplantation, farming etc). My research is based upon the use of bacteriophages, bacteriocins and endolysins to treat bacterial infections. Bacteriophages are viruses specifically adapted to infect and destroy bacterial cells, without having any effect on human cells. Bacteriocins and endolysins are protein antibiotics which inactivate specific strains of bacteria.
However, the limiting factor towards use of these agents as antibiotics remains with the delivery to the site of infection. I have spent the last three years investigating formulations and microencapsulation techniques to protect these antibacterial agents against many defences in the human body (gastric exposure, proteases etc.) and deliver them to specific sites along the gastrointestinal (GI) tract.

Before starting my PhD, I completed a BSc in Microbiology at the University of Nottingham. It was straight after my BSc that I decided to do a PhD at Loughborough. My lecturers at Nottingham had a good relationship with Loughborough University and made me aware of the PhD position when it became available. The PhD project was closely related to my undergraduate research project, which was based upon the use of bacteriophages to measure growth rates of Mycobacterium bovis BCG strain. Therefore, I already had experience working with phages and was keen to continue my research.

The initial reason I chose Loughborough was due to the PhD opportunity being offered here. As I studied at the University of Nottingham's Sutton Bonington campus during my undergraduate degree, I was familiar with Loughborough before starting. Having a tour of the campus after my PhD offer secured my decision; Loughborough has a strong community-based ethos and an excellent campus for study and sports.

I've always been fascinated with microbiology, working with living organisms you can't even see! During my undergraduate degree I enjoyed the lab aspects the most, and knew I wanted to continue in research afterwards. When the PhD opportunity arose at Loughborough, based on a topic I was already interested and experienced in, I was so excited to start. As well as this, within the life sciences sector, many jobs required a PhD so it was a definite route I wanted to take to progress my education and future career.
One of my favourite aspects of my research is knowing it has real applicability to the medical sector, based on solving an emerging problem. Being able to contribute knowledge and research towards the production of narrow spectrum antibacterial agents, to provide an alternative to antibiotics, has been extremely rewarding.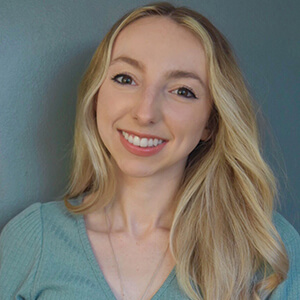 A piece of advice I would give to a future PhD student is to find an area of research you are passionate about that also has applicability to current issues. Researching in a subject you're interested in will ensure you enjoy your PhD and remain motivated with your experiments, even when you encounter problems. Being able to see the applicability of my research has really motivated me during my study and made me want to reach all the objectives I set.
My favourite aspect of doing a PhD is being able to decide your route of research, within reason, so I could tailor my research questions towards what I find most interesting. For example, sometimes multiple research questions are formed from experimental results, but it is my choice to decide which route of research I want to take. Quite often, if it's the aspect you're most interested in, it's where you'll excel.
Due to working with living organisms, most days begin with growing new bacterial cultures for use in experiments later that day, or processing cultures from the previous day. Depending on the experiments I've chosen to do that day, I'll begin setting up as soon as I get to campus. My experiments can take anywhere between 3-8 hours to complete, usually with some downtime between each procedure where I have time to respond to emails and read relevant research papers.

In January 2020, a new biolab opened in S building, giving us much more space for our research. Not only this, the biolab was equipped with lots of new apparatus to use which really helped me develop new encapsulation techniques. As a PhD student, we also have access to the Graduate House - a great study and social space to meet PhD students from other courses.

There are other PhD students within the department, and we support each other with research-based questions or general wellbeing. Also, PGR representatives and champions are always available to provide support.

Since November 2020, I have been working at the asymptomatic COVID-19 test centre, moving to the symptomatic test centre in January 2021. I have found this to be a great opportunity to contribute towards the pandemic response and meet new members of staff from other departments.
In January, I secured a job role which is due to start in July as I finish my PhD. The job is directly linked to my PhD, working on clinical trial management within infectious diseases. I planned to secure a job at least a few months before finishing my PhD so there would be no delay on progressing my career, or added stress whilst finalising my thesis.
The role I secured is a PhD graduate scheme, whereby I will be placed onto an intense training scheme to co-ordinate project timelines and progress towards management as I gain experience. I am really looking forward to starting and being able to take the knowledge I have learned during my PhD into a real-world situation working on clinical trials. This will be a rewarding career and I hope to make an impact with my work.

In five years, I hope to be managing teams working on clinical trials for infectious diseases. My future job role provides me with the opportunity to specialise in a medical sector and I hope to become an active participator in the world of clinical trials within microbiology.
One of my proudest moments so far was having my research published. Almost a year of work towards refining the microencapsulation process and then applying this to bacteriophage microencapsulation culminated in a successful research paper, which can act as a platform for scalability. In addition to this, having the opportunity to work on an in vivo experiment with the University of Glasgow. Being directly involved on a murine study, whereby the treated group of mice displayed exceptional recovery results, made me extremely proud by showing my research has real proof of concept for treating humans.

During my PhD, I have learnt that I am more resilient than I had previously thought; being able to face problems during experiments without giving up and working extremely hard to find the solution.