Kane
Current student
Subject area
After studying Geography BA, I wanted to further specify my learning and have always wanted to do climate change studies. Fortunately, the course began at the end of my undergraduate degree and presented with me with a good opportunity to continue my studies at a time where getting job would have been difficult. As well as this, knowing students who were also going from geography to this course and lecturers like Richard, made it an easy decision.
My main motivations behind studying my master's degree were:
To give myself a better chance of getting a job after university.
To continue studying something I am passionate about.
It seemed a really good time to continue my studies due to job uncertainty.
I think the facilities are good and have always been good enough for me, such as computer labs. I never required many physical geography facilities, but I know we have them. The teaching quality has always been good, with the staff being friendly and often teaching you over many years making the whole process easier.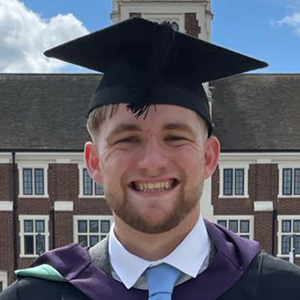 My typical day would (hopefully) start with gym in the morning when I would go at some time between 6:30-9. Then I would head home for breakfast. My day would then involve lectures on campus or doing work at home, with breaks in between. A few days in the week I would also work evenings at a local pizza place. If I wasn't I would be doing coursework or chilling with friends in the evening.
I would like to work in climate change and sustainability, whereby this course has actually helped me to specify towards energy modelling. I would like to think my masters might give me an advantage when applying for some jobs too.
The greatest skills I have learned during my master's:
A mental skill would be time management, working on many deadlines and a part time job.
From a technical perspective, I have learnt multiple energy modelling systems software's.
I would certainly encourage people to do a master's in climate change as the sector is growing and is very interesting, whereby the work is ever changing and really important. Just make sure you understand the workload and the potential financial pressures that you may face.
The social atmosphere is great, I've loved every minute of Loughborough. I have been on my hall football team, as captain for two years. As well as being involved in many other sports for my hall and going to the gym.