Jasmin
Current student
Course

Subject area
In addition to Loughborough's fantastic reputation for the course I wanted to study, I had always wanted to study at the University after attending athletics events at the track as a child.
I chose to study a PGCE as I required a Postgraduate qualification to continue with my new career path of becoming a teacher.
I had a four-year gap between my UG and PG courses so I while initially found the transition back into education difficult, it ultimately very rewarding. The lecturers and facilities are incredible, and I've really enjoyed my year at Loughborough.
I attended several different schools as part of my placement training on the PGCE programme. I am really proud of the positive praise I received from both students and teachers at those schools and how I made a positive impact on the student's education.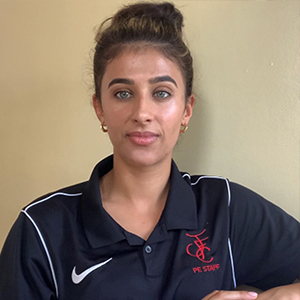 Lecturers, as well as my personal academic tutor, have all been very supportive. Lecturers welcomed feedback, while course representatives worked alongside them to act on the feedback provided.
I've particularly enjoyed the number of practical sessions provided by the lecturers and the practical tasks set within lectures. Through these practical sessions we made good use of the sports facilities, with each student having full use of professional equipment and facilities.
As my course has a smaller number of students on it, we were all very close and were able to get together on several occasions socially outside of our lectures as well as support each other during our school placements.
Studying my PGCE at Loughborough has definitely helped to prepare me with all the skills needed to be successful after graduation as I now have secured a role at one of my placement schools as a PE Teacher.