Imogen
Current student
Subject area
The objective of my research is to identify key determinants of starting performance and understand what swimmer characteristics impact upon these.
The project aims to help the coaching community through an exploration of why some swimmers can make technical changes while others struggle, as well as providing resources to the coaching community to aid starts analysis and improvement within their programmes.

My PhD is supported by Loughborough University, Loughborough Sport, the English Institute of Sport and British Swimming.
Twice a week I run technical sessions with athletes on British Swimming programmes, training with the University team, alongside international athletes that have chosen to continue their swimming career at Loughborough.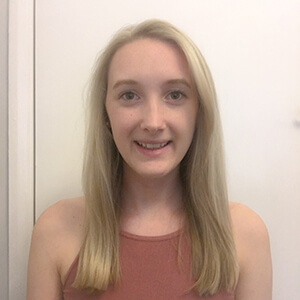 These sessions involve the use of the extensive analysis system, involving a series of above and below water cameras that allow the coaches and I to identify technique inefficiencies in order to improve the swimmer's performance.
As part of my role within the British Swimming team, we aid the development of equipment and software through validation and day-to-day use of the system. This ensures the continued development of the system in order to provide the best analysis support to our athletes.

The highlights of this opportunity have been the chance to support the Loughborough University swimmers in their preparation for the Olympics and attend the Swimming European Championships in Budapest to support the analysis team.
Having the opportunity to immerse myself into the University Swimming programme and getting involved in the use of and feedback on the analysis systems used through British Swimming provides invaluable experience. Being involved in the applied world is fantastic and provides you with the real-world experiences that are needed when looking for employment.
In the future I would love to be a biomechanist / performance analyst for an Olympic sport. Continuing with Loughborough Sport and the swimming programme would be fantastic, however I'm always open to other opportunities and different sports. I could also continue down the engineering side, developing equipment or software for sports programmes to utilise.

The advice I would give to someone thinking of undertaking a PhD at Loughborough is that it's a big decision to make on the next 3 or 4 years of your life – think it through thoroughly before jumping in.

It's completely normal for the first year to be daunting; stick at it and ask for support where needed. Having a thesis alone isn't what makes you attractive to future employers – it's the experiences, knowledge and people you meet along the way, so take advantage of every opportunity you're given.