Iain
Current student
Subject area
If your research subject is orientated around sport, Loughborough has to be your number one choice.
Loughborough University strengthened my draft research proposal and led applications to fund the PhD. The University's credentials and ambition to include Paralympic sport in its sport-offer was also a contributory factor in choosing to study here, as was the University's connections to the sport industry, with a number of National Governing Bodies and the English Institute of Sport based on campus.
Sport integrity is an under-researched topic, classification even more so. To be well supported by Loughborough to complete the PhD and remain well connected to the sport industry, all benefits my future career and allows me the opportunity to become a thought-leader in this space.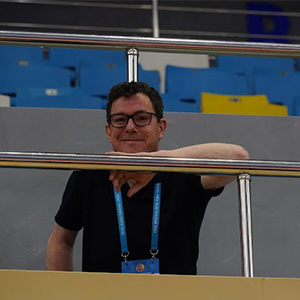 Classification is a structure for competition exclusive and essential to Paralympic sport. My research will look at athletes, support staff and classifiers' experiences, opinions and levels of trust in classification. Attempts to undermine the integrity of classification damages Paralympic sport's credibility and weakens the Paralympic Movement's capacity to deliver its vision: to make for an inclusive world through Para sport.
By benchmarking athletes, support staff and classifiers' understanding of classification policy and levels of trust in classification, while capturing contributory factors to those levels of trust, I plan to make recommendations that will improve levels of trust and safeguard the integrity of classification in Paralympic sport. The findings from my PhD could also be transferred across to other areas of sport integrity, not necessarily exclusive to either classification or Paralympic sport.
Before studying at Loughborough, I competed at the Atlanta Paralympic Games in 1996 and gained a degree in Sport in the Community. While working for the Irish Sport Council, I completed a part-time master's degree in Equality Studies and then worked for the British Paralympic Association from 2003 until 2021, becoming its first Classification Manager in 2013. Through working in classification, I recognised that its integrity was at risk and the most impactful way to address this way by undertaking a PhD.
The staff at Loughborough are happy to give their time and share their expertise to help your work. Having athletes, practitioners and academics on campus with a background in Paralympic sport allows regular, diverse and challenging conversations to take place. Given that the subject matter of my PhD is significantly under-researched, this is invaluable.
I have enjoyed flexing my network, knowledge and experiences, while still pushing myself out of my comfort zone. The best example of this is that I now have a social media presence and have posted videos on social media accounts talking to recruit participants for an online survey. I have enjoyed being challenged, in a supportive way, by the university as well as having the opportunity to learn new skills or discovering new information each month.