Huyen Le
Current student
Course

Subject area
With my team, I am focusing on enhancing society and the planet's health by developing novel environmentally friendly antibacterial surface coatings. Ultimately, the overarching goal of my research is to reduce the reliance on antibiotics by proactively addressing the root causes of bacterial infections.
What I am researching
Your body is challenged every day by viruses, bacteria, and other stimuli. By assessing the impact of surfaces where these infections are found, we can create a viable solution for making hospitals safer environments, thereby preventing bacterial infections in healthcare settings. By implementing improved antibacterial coatings in hospitals based on the scientific insights gained from my work, we can significantly mitigate the occurrence of healthcare-associated infections and the subsequent development of antimicrobial resistance.
Watching paint dry is an unconventional methodology which allows me to develop a comprehensive understanding of the efficacy and functionality of next-generation antibacterial surfaces. Every day I dive deep into data analysis, conduct experiments, and engage in critical thinking to advance our understanding of materials engineering and its impact on the global antibiotic resistance crisis.
Showcasing our research
Currently, the work has been presented to both academic and industrial audiences through showcases such as the University Annual Conference and the Doctoral Summer Showcase and competitions like the 3 Minute Thesis Challenge and Institute of Materials, Minerals & Mining (IOM3) and the Young Persons' Lecture Competition.
In September 2023, I will be presenting internationally for the first time in Japan and in the near future when we can draw conclusions to our findings, my supervisor and I have plans to publish the research in peer-review journals.
These experiences will help enhance my research contributions to colloid and surface science because the work will gain visibility. Exposing the work to a broad audience of researchers facilitates more collaborations that could provide more influence in future research and discoveries.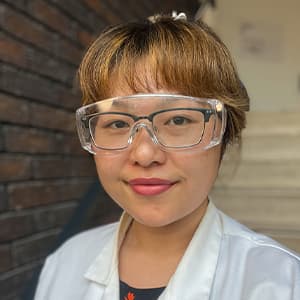 What I did before my PhD
Before my PhD, I received an Integrated MChem degree from the University of Sussex in 2021. My dissertation focused on harnessing the unique properties of nanomaterials to help improve wastewater treatment processes to improve water quality, reduce environmental impact, and improve public health.
As an undergraduate, I gained industrial experience with GlaxoSmithKline Consumer Healthcare, working in roles such as New Product Development Analytical Scientist and Product Chemistry Scientist. These roles gave me the opportunity to work on science-based products including the multimillion-pound brand Sensodyne, Corsodyl/ParodontaxTM, Aquafresh and Voltarol Pain Relief Gel.
I am very grateful for the inspiring scientists and engineers who mentored me as we worked to provide specialist solutions in oral healthcare and pain management. It was through this experience that my interest in colloid science grew, which helped my decision to pursue a doctoral research experience using these concepts.
Why I chose Loughborough University
When I saw the advert for my PhD project, I immediately contacted the lead supervisor, Dr Nacho Martin-Fabiani (who is now my supervisor). His expertise, passion and commitment to academic mentorship deeply impressed me. Loughborough has a strong reputation for academic excellence as well as student experience. Nacho reassured me that I would have the necessary support to excel in my studies and research endeavours – it was this prospect of having a supportive and knowledgeable supervisor that was a crucial deciding factor in coming to Loughborough.
Nacho also gave me a tour of the Department and the overall campus, and the availability of the STEM laboratories and the Loughborough Materials Characterisation Centre made me feel confident about maximising my productivity as I improve my research capabilities here. From state-of-the-art facilities and research centres to extensive library resources and study spaces, Loughborough provides an environment that fosters learning and personal development. The university's emphasis on practical, real-world knowledge and its focus on employability skills make it an ideal space for completing a successful PhD journey.
My future plans
For the rest of my PhD, I am open to learning new practices to contribute to the aims of Colloid and Surface Chemistry and Macro UK groups.
After the PhD, I intend to support others' development by doing more teaching activities and taking part in STEM outreach activities to promote a career in STEM. I would like to keep an open mind about using my transferrable skills towards my goal to represent underrepresented groups in STEM, particularly women from BAME backgrounds. I always advocate for commitment to promoting a culture of diversity and inclusivity within STEM fields.
Being a student ambassador for Materials Engineering allows me to engage in outreach activities promoting a career in STEM to local schools. Additionally, being a sub-warden at David Collett Hall outside of my PhD helps me to develop important life skills that can help me thrive beyond being a technical researcher.
My advice to anyone thinking of undertaking a PhD at Loughborough
Prioritise self-care – a PhD can be demanding and intense so take care of your mental and physical wellbeing to maintain a healthy work-life balance. Set boundaries, practice self-care activities, and seek support when needed.
Loughborough student services and the wonderful Doctoral College team have plenty of resources to provide you with information on how to become an effective researcher while maintaining your well-being.