Holly
Current student
Subject area
Studying at Loughborough has been an incredible learning experience that has provided me with the skills, knowledge and experience to achieve my career aspirations.
The Applied Sports Performance Analysis MSc has offered me the chance to use the most up to date technology and software in the performance analysis industry and meet people who have got to their roles through different paths.
I have had the chance to undertake a placement at an elite club in my preferred sport, where I was able to apply the content of the course to a real-life analyst role.
Following graduation, I wish to gain a full-time job as a performance analyst in elite cricket. Completing this master's degree has equipped me with the skills, knowledge and confidence required to fulfil the demands and responsibilities of becoming a full-time analyst.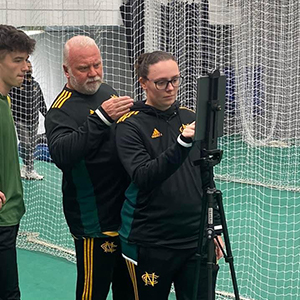 I chose to continue further study with a master's as it allowed me to specialise and solely study an area which I had great passion for and knew I wanted to pursue as a career.
The transition between UG and PG has been harder than I imagined, the standards and expectations of the writing and reading aspects are something that I have had to develop throughout my master's degree. However, the depth of content being taught and the ability to apply this into an elite sport setting has been an experience I wouldn't have gained at undergraduate level.
Using the facilities at Loughborough has allowed me to apply my work to different sports and environments, as well as use different technology such as cameras, GPS systems and analysis software that I wouldn't usually have access to.
The networking opportunities provided through the course have been incredibly useful for employability support and creating contacts to support me through my studies and future career.
I have undertaken a placement as a performance analyst for Nottinghamshire County Cricket Club working with the men's 1st XI, 2nd XI and academy teams, as well as working in the age group pathway.
I have been able to develop my cricketing knowledge, while growing my coaching experience and learning the vital responsibilities and demands needed to become a sports performance analyst.
It was a real highlight to be working with players who have and are currently playing at international level, as well as working with young players who are aspiring to make it onto the international scene. Travelling to home and away grounds and being responsible for the analysis for the U18s academy team and 2nd XI team was amazing.