Harry
Alumnus
Subject area
I chose to study at Loughborough University because I knew that I wanted to build on the knowledge I amassed during my undergraduate degree in Sport and Exercise Science, whilst keen to put myself in a high-performance environment, surrounded by ambitious and talented coaches.
Loughborough University ticked both of those boxes for me. High-level teaching from experts in their field, coupled with world-leading facilities and fantastic placement opportunities.
I found the well-blended mix of in-depth scientific learning, coupled with insightful knowledge of practitioners and guest lecturers who work in high performance sporting environments particularly useful. The depth of science was fascinating, whilst the real world examples provided a confidence that often less is more and that understanding the athlete and their environment is as important as the reps sets and recovery times you program.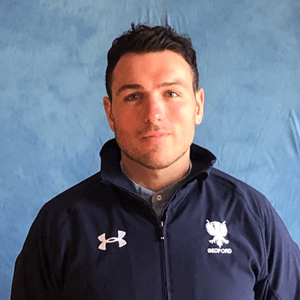 The lecturers really went above and beyond to ensure your learning and development was at the forefront. Having all the lectures accessible as recordings after class was a fantastic tool when revising and allowed for additional levels of detail that may be lost otherwise.
As the Head of Athletic Development at Bedford School, I oversee the athletic development of each student from the ages of 8 to 18. I deliver more than twenty weekly sessions designed to give the students a physical toolbox they can take on their sporting career for the rest of their lives. A weekly schedule would include three resistance and plyometric based sessions, coupled with at least one speed session and one recovery session. I have also been helping the Physical Education department with creating their academic syllabus.
This course exposed me to a far wider pool of athletes than I had worked with previously and put me in an environment that is successful. The other students wanted to ask questions, learn from one another and that helped me to develop greater understanding.
Before completing my undergraduate degree, I worked with inner city kids delivering PE lessons and this inspired me to want to facilitate the development of junior athletes. I find it extremely rewarding, even if it is challenging at times. Whilst completing my master's degree I worked twenty hours a week with the academy at Leicester City Football Club thanks to a collaboration the club has with the University. The exposure to a high-performance environment made me realise the high standards that must be set to excel in such a place. It gave me a huge amount of coaching exposure in a sport I knew relatively little about and the opportunity to make mistakes whilst learning from them.
The advice I would give to anyone thinking of studying the course is, absolutely go for it if you are interested in furthering your career in Strength and Conditioning. Get stuck into everything that comes your way. The level of opportunities accessible to me on the course was staggering. You will not find a better base for high performance sport anywhere else in the country. Just being in the environment presents opportunities and when coupled with high class teaching and facilities you can thrive. I know this master's has put me in a fantastic position to have a long and successful career in the industry.